PEF members spread holiday cheer to patients in dementia wards in Western NY
By KATE MOSTACCIO
"Adopt a grandparent for Christmas. Go to the nursing home nearest you and find out who does not get visitors or gifts."
Those were the words of a meme on Facebook that caught the attention of PEF Vice President Randi DiAntonio.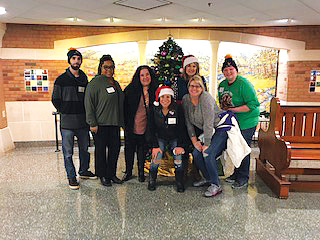 "Shannon Wagner posted the meme," DiAntonio said. "I responded that it was a great idea, why don't we do that? Within five minutes, I had Meaghan Dwyer, the treasurer of Division 259, messaging, 'I'm in. Let's do it.'"
Three PEF divisions in the state Office for People With Developmental Disabilities (OPWDD) in Region 3 often work closely with each other on community projects.
"The three PEF councils whose members are employed at Finger Lakes DDSO frequently do joint ventures," Wagner said. "When this came up we jumped on the idea, including giving gifts, caroling and several staff members offering to dress up as Santa and his elves.
"Because it was so close to Christmas, we decided we would choose the Monroe Community Hospital this year and rotate the adoption to other sites in our joint council area over the next several years," Wagner said. "Our members work in 10 counties in the western New York area and there are many agencies that would benefit from our members' generosity."
DiAntonio reached out to Monroe Community Hospital in Rochester and asked to "adopt" residents. "I spoke with the recreation department about what we are allowed to do," she said. Donna Kaplan and Amanda Bishi helped coordinate the gift donation to 85 residents in the hospital's dementia units.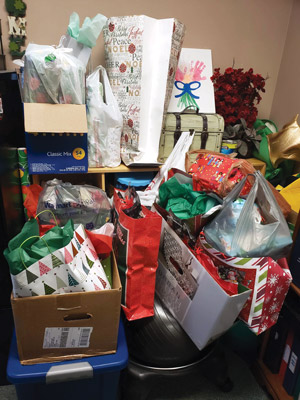 The hospital suggested gifts, including soft blankets and throws, small radios or CD players, and socks with grips. DiAntonio said there was an overwhelming response to the Hustle text campaign the organizers initiated to get the word out.
On December 23, PEF members, including Dwyer, Rhiannon Boehm, Gwen Clifton and Leisa Abraham headed to Hope 2 and Friendship 1 West to sing for residents and pass out the collected gifts.
"It was a wonderful time to show how our fellow union brothers and sisters come together and bring in nearly 100 gifts to two secure units at Monroe Community Hospital," Dwyer said. "I was able to pass out the collected gifts to the residents and it was great to see each and every one of their faces light up with joy when opening up gifts from our members."
Members joining forces to help others this season was rewarding to see and Dwyer hopes they will be able to do it again next year.
"It will truly be something we will continue to do in future years to come," she said. "We are truly blessed with some very dedicated members who are willing to help no matter what and their generosity is humbling to see and experience firsthand."
---
CLICK HERE to view all stories featured in the Communicator!