PEF listening to you, supporting you
By SHERRY HALBROOK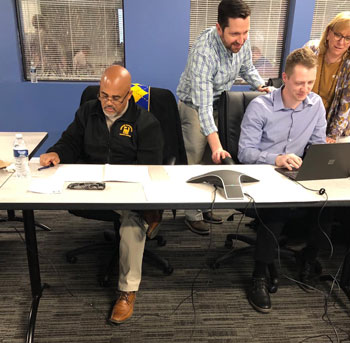 While PEF has been focusing its efforts and resources on providing accurate and important information for members as the COVID-19 pandemic closes its grip on New York state, it has recognized that it is also extremely important to listen to members and try to understand their needs and questions.
The union held a tele-town hall meeting with members throughout the state March 11 just as the first cases were being identified in the state. PEF President Wayne Spence was joined by Randi Weingarten, president of the American Federation of Teachers that is one of PEF's two international union affiliates, PEF Vice President Randi DiAntonio and PEF occupational safety and health staff in speaking with members who called in.
Spence told them that he is extremely proud of PEF members and the crucial role they are playing the state's ability to respond to the crisis and keep New Yorkers as safe as possible and help them deal with the abrupt and severe economic hardship it is imposing on them.
"We a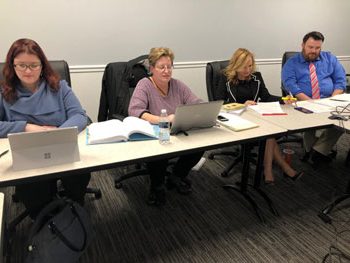 re demonstrating to New York and the world what we do every day," Spence said.  And while you are doing your jobs, I am doing everything I can to protect you, our members."
Among the first things PEF was doing for members, he said, is to create a new "landing page" on the PEF website to provide the most up-to-date information about the virus and how state policies are evolving for providing services while attempting to keep employees as safe as possible.
Spence said an early concern was arising to ensure PEF nurses who had begun traveling to the homes of New Yorkers with possible symptoms to test them for the virus.  (A few days later, Spence volunteered to drive the nurses on these visits over the weekend.)
Among the many other initial concerns and questions raised by members who called in during this 45-minute town hall focused on such issues as:
• When will schools close?
• Will members be able to stay home and care for their children?
• Will they need to charge accruals?
• What if the member is infected, or a family member of theirs?
• What does the one-mile containment zone in New Rochelle mean and how does it work?
• Why did the governor call out the National Guard?
• How are members in New York City supposed to get to work when the governor is telling them to avoid mass transit?
• Will PEF ask the governor to stagger employees' work schedules?
• What should a member do if they encounter someone at work who has obvious symptoms associated with the virus?
• What's the state doing to reduce exposure by restricting meetings and other work groups?
• If I get the virus and I'm quarantined, how can I protect my family?
• Are they going to go ahead with holding civil service exams?
Spence and PEF staff did their best to answer these questions with the information available at the time.  They told members who were not sure if they are considered "essential" to check with their direct supervisors about that.  They encouraged members to be alert and watch for updates from their agencies and management on any new protocols for both routine operations and special situations related to concerns about the virus.
"Some agencies are coming up with (poorly thought out) policies, so let us know if that happens," Spence told the members.  "If there's a problem, tell your union rep.  We can't do anything about it if we don't know about it.  We are in touch with the governor's office every day about these issues."
PEF General Counsel Renee Delgado said that all state employees will be covered for 14 days if they are quarantined by their local health department.  They will be on paid leave without the need to charge their leave accruals.
In reference to questions about protecting members' families, Spence responded, "If you are quarantined, your family will be quarantined too.  You will receive two weeks pay and if you are sick after that, we will deal with it on a case-by-case basis."
The president also suggested that members who are most vulnerable to the virus, such as those with underlying medical issues, who were planning to take civil service exams that were postponed should talk to the state Department of Civil Service to see if they could be accommodated.
Since this townhall took place, sweeping workplace and civil changes have been instituted and PEF has been posting the most up-to-date information on its website and on its social media.  Please check them daily to stay as informed as possible during this very challenging period.