PEF librarians help blind and readers with disabilities access thousands of books
By KATE MOSTACCIO
In the basement of the Cultural Education Center – where the State Museum, Library and Archives are housed – PEF members work among rows of shelving, filled with easy-to-open cases containing digital "talking" books and shelf after shelf of braille books, serving New Yorkers who otherwise have difficulty reading standard-sized print.
The New York State Talking Book and Braille Library (NYSTBBL), part of the state Education Department, boasts a collection of about 30,000 braille titles and 90,000 digital titles, said PEF member librarian Shawn Lemieux, NYSTBBL's director.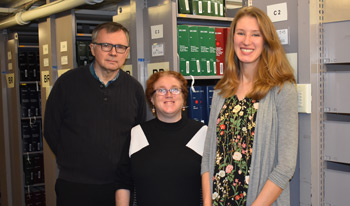 "We serve around 14,000 patrons," Lemieux said. From individuals, to schools, to institutions, the library brings the gift of books right to patrons' doors. "We process about 2,000 items a day."
Lemieux said patrons must be eligible for services in order to use New York's two talking book and braille libraries.
"Eligible residents who have a visual impairment, are blind, have a physical disability that makes holding books and turning pages difficult, or who have a medically diagnosed reading or learning disability can apply for services," she said.
The library in Albany serves most New York counties north of Westchester, with the New York Public Library's Andrew Heiskell Braille and Talking Book Library in Manhattan serving the five boroughs of New York City and Long Island.
Borrowers can access the library's catalog online or request books by phone, email or mail. They can also set up their service to keep sending books from their favorite author or genre whenever they return a book.
The circulation section of the library contains an older model bulk-mail container— something Lemieux said is rare to see these days. It allows the staff to take large bins of returned digital book (DB) cases delivered by the U.S. Postal Service and move them to a sorting table.
"Our staff looks at every book," Lemieux said. They inspect new books, ensuring digital titles are complete, and check for damage before re-shelving them for the next borrower.
PEF member senior Librarian Jane Bentley demonstrated how the DB cases opened and how library patrons would use them.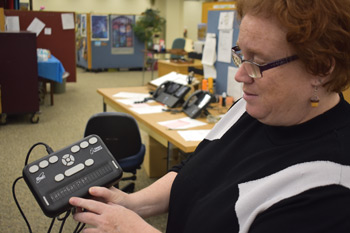 "They come in cases that are designed to be easily opened," she said. "Every library patron gets a digital player." Players come in standard or advanced, depending on the patron's needs, and are loaned to borrowers. Library users can also purchase a player from commercial retailers.
Mike Whitney, a PEF senior librarian at NYSTBBL, said most of the patrons borrow DBs. "About 1 percent of our patrons use the braille books," he said. "Someone who is blind from birth is more likely to use the braille."
Pulling a braille title off a shelf, Whitney showed that some of the braille books have both braille and written words.
"Children's books often have text and braille so parents and children can read together," he said. It could be a blind child and a sighted parent or a sighted child and a blind parent — the dual use allows both to enjoy the story.
Talking book and braille libraries fulfill a service required by federal law, Whitney explained. "Federal law states people who are blind have the right to read," he said. "Publishers are required to make titles available."
Through the National Library Service for the Blind and Print Disabled (NLS), the TBBL can offer its patrons even more books than those physically housed in Albany. The NLS Braille and Audio Reading Download (BARD) is "a free web-based service that provides access to thousands of braille and talking books, magazines, and music scores," a brochure states.
Patrons of this service, who must be eligible members of the library system, can also download the BARD mobile app through the App Store, Google Play, and Amazon Appstore and play titles on their phones, tablets or newer Kindles.
Among the library's offerings are fiction, non-fiction, some foreign language, pre-K through young adult books, and new and current titles are frequently added to the collection. Commonly, medal-winning books are translated, Lemieux said. Patrons can also request titles, though there is no guarantee a request will be granted.
"We have reader advisors, CSEA members, who communicate with the patrons," Lemieux said. "They do the intake, answer phone inquiries and emails, process applications. They handle it when people call and ask, 'Where's my book?'"
Teamwork between the PEF members and the CSEA-represented staff is an important part of the NYSTBBL. "We really enjoy being a team," Lemieux said. "And we really enjoy what we do."
Lemieux and her team do outreach to the community whenever possible. "We go to any event that will have us," she said. "Any place that will let us put up a table."
The goal is to get as many eligible New Yorkers enrolled. "Take advantage of the service," Lemieux said. "It's free for the patrons."
---
CLICK HERE to view all stories featured in the Communicator!