'PEF Does It' during coronavirus pandemic
By KATE MOSTACCIO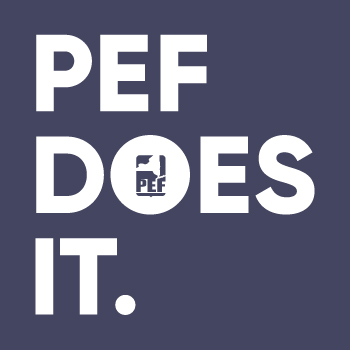 The state may be on "pause" but PEF members across New York continue to provide services and step outside the norm to assist with coronavirus response.
Labor and Delivery Ward
News outlets have touched on the issue of birthing mothers being unable to bring their planned support people to the delivery room due to coronavirus concerns. A PEF labor and delivery nurse at Upstate University Hospital said it's very difficult both for the mothers and the nurses caring for them.
"We're seeing a whole different level of anxiety," she said. "A lot of our population is anxious anyway, they don't know what to expect, some are doing it for the first time. There is an underlying sense of being out of control. Some people when they go into birth they really want things a certain way – there is no way we can do some of the things they want now. They want family, to walk in the halls, to labor in the tub, or even use nitrous."
The nurse, who has worked in labor support for 36 years and has been a nurse since 1993, said the situation is stressful all around.
"They come in and the father knows if he leaves the building they may not let him back in," she said. "Moms know they can't have their mother or a sister with them. It's really the significant other and the mom. They're going down this road they've never traveled before and they have no idea what to expect and they are alone."
The PEF nurse said some nurses are hesitant to be in the room and be at their side.
"They don't know where they've been," she said. "There is tension between the nurse and the patient. Are you really feeing ok, have you really not been exposed?"
As a hands-on person, the nurse said it has been especially difficult for her.
"I know how important it is to the birthing process making someone comfortable," she said.  "When you are in that situation with a mom, you become their best friend or sister in a matter of minutes. They look for your facial expressions, now completely hidden. Or for your touch."
Precautions are being taken to limit the amount of interaction the nurses can have with the mothers for the protection of both.
"We are wearing masks at all times," she said. "When you come in, your temperature is taken and you are asked questions at the door. You have to have that mask on the entire time. If you are alone you can take off the mask and eat.
"When you are doing patient care, you are wearing masks, gloves, gowns and head covering like a scrub hat. If you have any fluids splash on you during delivery they are not sure of the impact of bodily fluids yet. We are being extra cautious. If we go in to the OR we are wearing a regular surgical mask plus an n95."
The nurse said mothers are so scared of possible infection that there has been an Increase in calls about home births.
"That opens a whole other can of worms," she said. "Realistically things may go OK at home but labor and delivery is kind of like a mini intensive care unit. Women and babies can go bad so quickly. We have midwives that are being inundated with calls for home delivery. We're telling people it's not a safe situation for you to stay home. We are doing everything we can to take care of you here."
Office of Parks, Recreation and Historic Preservation
Gov. Andrew Cuomo, advocating social distancing to slow the spread of the virus, urged New Yorkers to visit state parks and enjoy the open spaces.
"The New York state parks are places of respite where the people of the state may access Mother Nature's healing powers," said Division 305 Council Leader Elizabeth Martin, a senior architect with the Office of Parks, Recreation and Historic Preservation (OHRHP). "There's nothing like walking in the woods or by the beach or across a meadow to remember we have each other and a very beautiful planet to be thankful for."
OPRHP members are stepping outside their usual duties assisting  with COVID-19 testing sites at Jones Beach and Anthony Wayne Recreation Area; hosting an Incident Management Team for COVID-19 testing at Saratoga Spa; volunteering and training to staff the State Emergency Operations Center and Regional Operations Centers; driving supplies, including virus tests, water, and hand sanitizer, to sites in need; and more, according to a letter to employees from OPRHP Commissioner Erik Kulleseid.
Staff deemed non-essential and asked to work from home have collaborated with members from the state Office for Information Technology Services to set up and keep doing the work of the agency.
"Like many agencies, we are working remotely as best we can," Martin said. "Because we have a construction mandate, many in our Capital unit are working with contractors at various parks/sites to keep the projects moving forward. They are following appropriate protocol for social distancing, if attending meetings."
Martin said OPRHP members are rising to the challenges presented by this unprecedented time.
"This time away from colleagues has put into sharp perspective how much we depend on each other's energy, insight, creativity and encouragement on a daily basis," she said.
Workers Compensation Board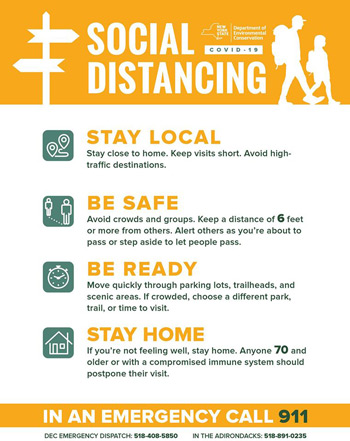 Administrative law judges at the Workers Compensation Board adjudicate workers compensation claims, determining entitlement to indemnity benefits and medical treatments.
These PEF members have been working daily to continue holding hearings for claimants during the COVID-19 shutdown.
"They continue to have a need to have their benefits maintained," one member said. "If the parties have an issue, somebody has to decide whether it's appropriate to continue benefits or whether to authorize medical benefits. Authorizations for medical treatment and sometimes wage replacement aren't allowed until a judge says that it is. They have to have hearings."
With mandatory social distancing, the Workers Compensation Board has moved to 100 percent virtual hearings – something the PEF member said the agency was well positioned to do.
"We've been given very good guidance by our bosses as to how to continue having hearings," he said. "Injured workers can appear by video or by telephone. If they don't have the technical know how to connect through their laptop video, we will call them.
"Virtual hearings went 100 percent into place about a year ago," he said. "We are uniquely and ideally suited to be continuing with hearings."
Depending on office location, some judges are working from home and some from the office.
"We can come in but it depends on where the office is," the member said. "We are very much socially distanced here. We never have to be within six feet of anybody. Our waiting room is closed entirely."
All in all, virtual hearings have been going well so far, the member said.
"It has gone quite smoothly. Sometimes there are connectivity issues but for the most part  its very rare that those problems last the entire day," the member said. "We really were in a great position to be able to do this. But it is a lot of work. Hearings have been going later. You have to make a commitment of more time.
"I hope they [the state] appreciate they have a workforce that gets the job done," he said.
New York State Fire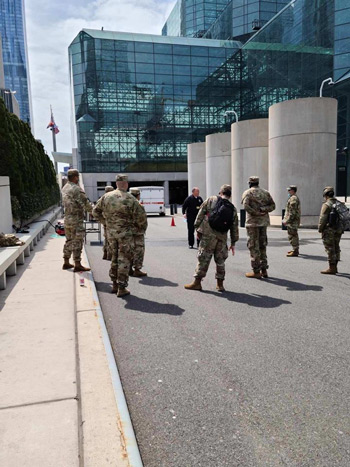 PEF members from Division 179 in the Department of Homeland Security and Emergency Services are hard at work in all corners of New York state supporting COVID-19 efforts.
From correctional facilities, to working with EMS crews, to logistical support for testing sites, fire protection specialists are performing essential services daily.
"We're supporting operations for the NY Clean project, which is providing hand sanitizer at correctional facilities," said Fire Protection Specialist and Council Leader John Buttino. "We have worked with three correctional facilities who have received the hand sanitizer. The alcohol content presents significant fire risk, so our members conduct inspections, check for code compliance and train the fire brigades."
Members are assisting with many hospital and drive-through testing operations.
"We are providing fire safety support at the Javits Center and all outreach hospitals," Buttino said. "Our members are providing support and decontamination for nurses at all testing sites."
In New York City, State Fire members are helping with EMS response.
"In the city, we have an ambulance coordination system with outside agencies that we're working on with Department of Health's Bureau of EMS," Buttino said. If the need arose for evacuations from facilities, like nursing homes, this cooperative effort would be at the ready to assist and safeguard patients and workers.
State Fire members are deployed in hot zones and at sites where COVID-19 is undoubtedly present but Buttino said they are taking all possible precautions to remain safe.
"We have an agency safety officer that contacts each site and ensures that needs are met and protections are in place," Buttino said. "We decontaminate all equipment before each use. We have had up to 30 members quarantined and few  tested positive."
Buttino is grateful for PEF's involvement and support.
"The support from PEF has been significant," he said. "It's been a tremendous support to have [PEF President] Wayne [Spence] and his staff in touch with us and in frequent contact."
Department of Transportation
Bridge and road projects continue during the state's shutdown thanks to PEF members working under unfamiliar conditions in their own homes, many for the first time.
Lynn Godek, a landscape architect with DOT, does design work on capital programs, such as repairing highways, bridges and culverts in the state highway system.
"As a landscape architect, my contribution to the plans have to do with things from ground cover, soil, trees, aesthetics , streetscapes," Godek said. "I also look at sidewalk compliance with accessibility regulations for ADA, cultural resource screening, and environmental screening for every project."
Most of her department, tasked with design projects, are considered nonessential and were directed to work from home. Godek said the bridge inspectors are an exception.
"In our design group we have bridge inspection. They're considered essential," she said. "Some of them are working from home but are on call. If something were to happen to a bridge they would have to be called out to go and look at it and inspect it and decide if the bridge needs to be closed."
Members at DOT are also involved in planning, construction, maintenance and operations.
"A lot of maintenance and operations staff are considered essential to take care of day-to-day maintenance of our highways," Godek said.
Working from home hasn't been bad but there were a few hiccups.
"We tested out our ability to work remotely," Godek said. "I have had email remote access for a long time. Remote access desktop had a lot of hiccups. On Tuesday, we were told to stay home. By Thursday, I could get full access."
PEF members like Godek and her DOT coworkers are dedicated to New Yorkers.
"I'm aware of a lot of perceptions people have about governments. That we're working on their back and their dollar. I don't take that lightly," Godek said. "I think of their perspective and seeing all state workers being told to stay home and thinking , 'Hey I still have to go to work.'
"I am grateful for this job that I have," she said. "The whole reason I'm doing this is because we are civil servants for the people of New York. Even if my role isn't deemed essential, I'm still working for the people of New York. I wouldn't feel right just sitting back. I'm doing my job to the best of my ability."
Godek is thankful for the emergency telecommuting policy and hopes it will lead to more flexibility in the future.
"This shows we can do this," she said. "We can telecommute. It should be an option for our employees. I think this is a great option to have in our toolbox as state employees."