Nurses share experiences, get answers at Zoom nurses forum
By KATE MOSTACCIO
"United nurses in a united workplace are more powerful than the best negotiator in the world," said PEF Interim Nurse Coordinator Gabriel Kristal during PEF's Zoom Nurses Forum on May 27. "Over the next several weeks I want everybody on this call to email me because I want to help you organize your facilities and your agencies. We want to make sure the members of PEF understand that they are union. The power we get is acting all together."
MORE FROM THE FORUM: Legislators, AFT president join PEF nurses to discuss issues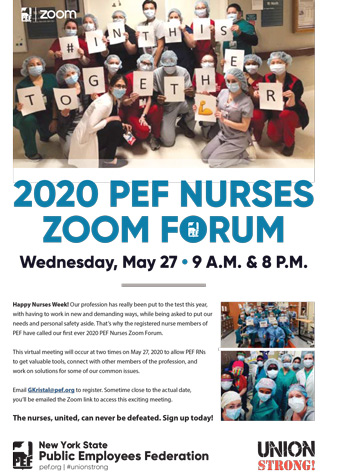 PEF staff and union leaders joined nurses on Zoom during two sessions, morning and evening, to talk about nursing issues and to answer questions nurses have on topics from tuition reimbursement, to the status of the PEF contract, to how the Statewide Nurses Committee functions.
Contract update
PEF Contract Chair and Region 10 Coordinator Darlene Williams attended the evening session of the forum and provided a brief overview about contract negotiations.
"Since the COVID crisis started, we had to put contract negotiations on pause," Williams said. "Everyone knows there were so many fires during that time that the union was trying to put out. This crisis was overwhelming. We didn't really grasp how bad it was at first."
Williams said management and the Governor's Office of Employee Relations (GOER) could not negotiate two things at once – the PEF contract and issues pertaining to COVID.
"We both said let's put this on pause. We are dealing with too many different things at one time," Williams said. "Our union shined at the height of this crisis. We were able to show New York state who we really are. The nurses who stepped up. The members who work for the Department of Labor with so many unemployment claims. Our members were there.
"Where human beings had to be cared for our staff, our nurses, doctors, social workers, psychiatrists came and were there to help," she said. "The governor sees it. Your neighbors see it. The people in your community see it."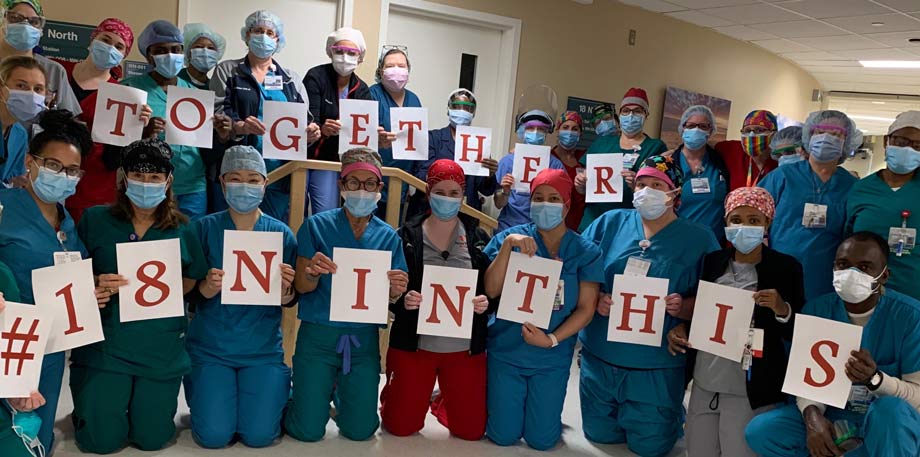 PEF members on the frontlines and in the public eye during the COVID pandemic can be a powerful presence when PEF returns to the bargaining table.
"Once we can all get back together and start to negotiate the contract, I'm hoping that they remember," Williams said. "Don't allow them to have a short-term memory. President Spence sent out information that the governor wants to hear from us, about our story. Don't read the email and say someone else is going to send in a story. Send in your story, let the governor know.
"When we get back to the table, not only will we have the skilled contract team members, including Bobbi Stafford and Michele Silsby, who will be at the table, we will have your own personal story," Williams said. "Do a video, do it in writing. Make sure we are heard. That way we're bringing hundreds to the contract table."
PEF Director of Organizing Dan Carpenter said negotiations may be on pause but work is still being done toward obtaining a fair contract.
"Nurses are well represented," he said. "They have their own small table. We are trying to address some of the issues we have faced for decades. While I say we are on a pause, we are still working to strengthen our side of the table. We are finding information and data to strengthen our bargaining.
"The contract team is definitely doing due diligence and making sure nurses issues are addressed during these negotiations," he said.
A discussion with former NYSNA executive director
Jill Furillo, no stranger to nursing issues, joined the discussion during the evening Zoom forum. Trained as a nurse at SUNY Downstate, she worked nursing jobs and crossed the country for work before joining the leadership of the New York State Nurses Association as executive director.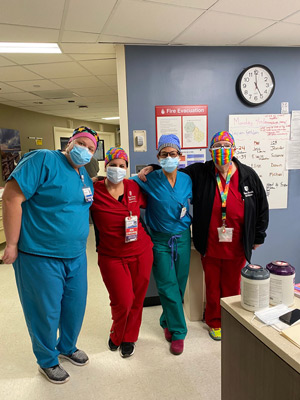 "When I came back to New York to be executive director of NYSNA, we hit the ground running fighting to keep our hospital open for care in Brooklyn," she said. "We united together NYSNA, 1199, SUNY nurses, all the workers at SUNY Downstate, DC37. We had a united front fighting the hospital closure. We had some success and we were able to keep SUNY Downstate open. It's an honor for me to be invited to speak to you today."
She pointed out that SUNY Downstate has been crucial in COVID care.
"Can you imagine if those hospitals closed? What we've seen with this pandemic crisis with health care workers, all our essential workforce, has exposed inequities in the health care system," Furillo said. "What nurses have done in New York is absolutely extraordinary when you see in a very short period of time what nurses had to go through. No one should ever have to go through what nurses, all health care workers and all frontline workers, have had to go through during this pandemic."
Furillo remembers the beginning of the AIDS epidemic and the fear surrounding it, when hospitals were overwhelmed and overrun.
"That doesn't even come close to what nurses have had to go through here in New York," she said. "When I look around the country and I see all the health care workers and frontline workers have had to put up with, nurses in New York have been at the epicenter of this pandemic."
Furillo said the pandemic will leave the nursing profession with a mark.
"I was in touch with nurses in Italy. Now that the dust has settled there they are starting to see the aftermath," she said. "It's like going into battle. The difference between soldiers going into battle is that when you leave the battlefield, you're gone. But, in this crisis you have to keep coming back to the same place you experienced the trauma. We need the labor movement to give strong mental health support and assistance."
At the federal level, the AFL-CIO has filed a lawsuit to compel OSHA to issue emergency standards to protect workers, Furillo said.
"I know that the AFL-CIO and all unions are pushing hard to get that legislation passed at the federal level for emergency temporary standards and protections for all workers affected on the front lines," Furillo said. "There are continuing, ongoing efforts to address the issues."
A member at the Zoom meeting said they go to work every day and there is no one with PPE and no one wearing masks.
"I actually count the people without masks," the member said. "I caught COVID and pneumonia at work." The member asked what the implementation of an emergency temporary standard would look like.
"The lawsuit is alleging that OSHA has not done due diligence to the workers on the frontlines making sure they are protected," Furillo explained. "It is the responsibility of OSHA to do so. [U.S. President Donald] Trump basically said they don't need a mandatory standard. They think it's better to leave it up to employers, which we all know is not adequate. There needs to be a mandatory standard and it needs to be implemented immediately."
A member told Furillo their workplace allows them to sign out one mask, which is inadequate.
"I finally was like, 'Really?' and went out and bough t my own masks and PPEs," the member, an employee of OPWDD, said. "You can catch anything over those cubicles and we have no protection."
Furillo said many workers testified or wrote down their story and shared it with AFL-CIO.
"It's the same story," she said. "Everybody had to buy or bring in their own PPE. They were told you have one mask and you have to keep reusing that mask. That is really, really unacceptable. That's why the AFL-CIO has filed this writ in the U.S. Court of Appeals, to compel OSHA to do that."
The member who had COVID pneumonia has returned to work – but is exhausted and looking for options.
"My employer has really not been nice," she said. "They don't know all the effects yet. I'm exhausted. I want to come home, my doctor has asked can you work half days, I'm getting no. I looked at Workers Comp but I don't know if that's the way to go."
Furillo told the woman that lawyers from many unions are looking at these issues.
Tuition reimbursement
A number of nurses submitted inquiries about tuition reimbursement for 2020. The answer came from PEF Training Specialist Kim Loccisano.
"At this time, PEF doesn't have any of our educational benefit programs available," she said. "PEF's programs are funded through Article 15 of the PEF/NYS contract. Without a contract in place, there is no funding for our programs. As soon as a new contract is in place, PEF will notify our members what benefits are available for 2020."
If a course can be postponed to later this year, that was advised. If not, it was advised that all documentation be kept. There is no guarantee that reimbursement would be retroactive to January, Loccisano said.
For nurses interested in loan repayment, the contract doesn't cover loan repayment but the Training and Education Department can answer questions about enrolling in the Student Loan Forgiveness Program offered to public sector employees.
She also encouraged members to utilize a new member benefit called SUMMER.
"PEF a has wonderful free membership benefit through AFT called SUMMER, it is on our website," she said. "This is tailored help. AFT will go through all grants and repayment plans and suggest which programs you should apply for."
Loccisano said a recent student debt clinic Zoom training conducted by PEF is available for viewing on the website. Access the clinic here.
PPE, health and safety information
Before the Zoom forum, and sometimes during, nurses submitted questions they had about workplace situations, health and safety.
One member asked what should be done in situations where it was not practical to wash hands.
Geraldine Stella, a PEF occupational safety and health specialist, said hand sanitizer was the way to go when members don't have the opportunity to wash their hands.
"One of the most important things you can do is have proper hand hygiene," Stella said. "Washing hands for 20 seconds and not touching your face. If you don't have access to wash, use hand sanitizer with more than 60% alcohol."
Stella said the Department of Corrections and Community Supervision (DOCCS) had been manufacturing hand sanitizer when it became difficult to obtain. She said some of this has made it's way to other agencies.
As far as information about personal protective equipment (PPE), Stella directed members to the PEF.org website.
"Click the COVID link," she said. "There is a lot of information on PPE, a lot of resources you can look at for questions you may have."
PEF opposes any decontamination of N95 masks, Stella said.
"We are not in support of that. We are looking at the Battelle system and we have been talking to agencies about how they are doing that," she said. "If you are having issues with PPE, supply of hand sanitizer, there is a form on the PEF website – the Exposure Reporting Form. That is being tracked by our organizing department."
Also on the PEF website is information about Workers' Compensation, Stella said.
"We developed relationships with three attorney firms that have offices all across New York state," she said. "You can contact these attorneys and they will answer your questions. If you think you were exposed at work, you are going to want to file for Workers Comp now. There is a lot in the works from the different unions on coverage for Workers Comp.
"We learned an important lesson from 9/11," she said. "Document now and preserve your right to potential future benefits."
As state employees move back into workplaces, PEF has put together a Return-to-Work Toolkit.
"The toolkit has great detail on what you should be asking for through your labor management chair and health and safety chair for your safe return to work," Stella said.
Hazardous duty pay during pandemic
PEF Vice President Randi DiAntonio field questions from nurses about the potential for hazardous duty pay.
"Never before has saying, 'Show us the money,' been more relevant. The time is now," DiAntonio said. "We have an entire country that is recognizing what we've known all along — how fabulous, dedicated and hardworking our nurses are."
DiAntonio said PEF is fighting on a number of fronts to achieve fair pay for members.
"PEF proposed Essential Duty Premium Pay for essential workers in our bargaining unit," DiAntonio said. "It would increase hourly pay by 50 percent, or by $15 an hour, whichever is greater. Our proposal also would provide an extra two weeks of vacation accruals added to balances on December 31. They would have up to two years to use those accruals."
SUNY hospitals would require separate negotiations, DiAntonio added.
"The reality is we need to push the state legislature to do things to raise revenues while at the same time pushing the federal government to pass the Heroes Act," she said. "New York state is in a very large deficit, to the tune of $13 billion.
"Members have a role in this because I can call legislators and Congress but I may not be their constituent or a nurse with a frontline story to tell that really resonates with them," DiAntonio said. "We need members to reach out to representatives. We need all hands on deck."
DiAntonio is the chair of the Statewide Political Action Committee (PAC). She urged nurses to get involved in their regions.
"Without your voices at that table we might not be making the arguments you all want us to make," she said. "We want people to get involved."
Information is available on the PEF website here.
"We have an opportunity here during this very terrible time to really highlight everything we do and raise the visibility of what nurses and other essential workers deserve and need," DiAntonio said.
Director of Organizing Dan Carpenter said PEF recently engaged in a texting campaign to urge members to contact representatives.
"There are a number of issues within that Heroes Act that really would benefit the members of PEF," he said. "We are encouraging all members to continue to contact their legislators in the House and Senate to voice support for this bill."
14 days leave for COVID may not be enough
A PEF nurse on the Zoom meeting, who had contracted COVID and developed pneumonia, said she was still exhausted – even after the standard 14 days at home. She wanted to know if she had any recourse to get time off without using all her accruals.
"One of the reasons we are also recommending that people file for Workers Comp if they have workplace exposure is because we don't know the long-term effects of this illness and how long people might be sick from it," Stella said. "If you have a Workers Comp claim established, you might get some of your time back.
"PEF is continuing to work on the 14 days issue," she said. "If they say no your case wasn't work related, you can charge accruals while your case is pending, including sick leave with half pay. People low on accruals who may need to have something for the future, it's a possibility if that case is established you could have some accruals restored."
PEF Statewide Nursing Committee Chair Carolyn Cole said this issue has come up at some Office of Mental Health and Office for People with Developmental Disabilities facilities and the telecommuting agreement with the state was useful.
"We have suggested because there is an MOU out there for telecommuting to put in for reasonable accommodations," Cole said. "Get your union steward involved. Most agencies will abide by it. Get your PEF field representative involved."
The fight for safe staffing
PEF Region 12 Coordinator and SWNC member Nora Higgins, a nurse at Stony Brook, directed a question to Jill Furillo about the fight for safe staffing in California and her experiences there.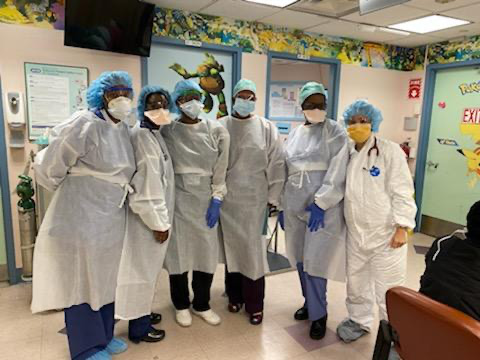 "What advice would you give us to move on safe staffing in this climate, where it's obvious it was necessary to begin with?" Higgins asked.
Furillo said the fight in California was long, beginning in the early 90s and continuing until the bill was finally signed in 1999.
"We fought, fought and fought some more," she said. "The timing was right when we finally were able to get it signed by the governor. It was at a time when there was another health care crisis. There was unity among all nurse groups. There was also support from the broader labor movement as well as a change in the political makeup of the legislature."
California's success hinged on the power of a united profession.
"There was unity. It was very strong," Furillo said. "We mobilized, organized, there were demonstrations and rallies. It was in the media. That has to continue in New York state."
Childcare for members in need
A federal bill earmarks $12.15 billion in funding to provide childcare or adult care services for essential workers, including health sector workers. PEF members have yet to see that benefit.
VP DiAntonio fielded the question.
"The bill was passed and unfortunately GOER needs to review the bill and issue guidelines for state agencies to be able to participate in it," DiAntonio said. "At this point GOER has not issued those guidelines. The bill has a loophole that says certain health care providers and essential workers can be exempted from it. Because of the loophole, the Governor's Office has not forced agencies to issue decisions when they ask about it."
In the meantime, DiAntonio said, specific cases could potentially be dealt with at the local facility level, by way of negotiating accommodations or scheduling changes.
"We are disappointed the Governor's Office is dragging its feet on it," she said.
Members must engage in the fight
President Spence drew the forum to a close with a look to the future and call to get involved.
"One of the issues we're hearing is the talks of furloughs and layoffs of essential workers," he said. "Not just PEF members but state and city workers across New York. SUNY is talking about laying off adjunct professors and part-time professors. They aren't going to have insurance . . . anything.
"Everyone is relying on Washington D.C. to pass a stimulus passage," he said. "If not, we may need to talk about furloughs and layoffs. We don't believe that's the case, we believe there are a lot of wealthy New Yorkers and they can pay a little bit more to offset the work that essential workers did."
RELATED: New York unions call on state leaders to raise taxes on the rich to address COVID-19 budget shortfall
Spence said the situation could become even more dire if there are layoffs and furloughs and then a second wave of COVID in the fall.
"We're not out of the woods yet," he said. "It's not enough to think that I'm too busy to make a phone call to a legislator, somebody else can do it. It ends up nobody will do it. We should be thinking, 'If I don't do it, who will do it?'"
Spence urged members to spread the word to family and friends about calling legislators to support the stimulus package, even those in other states.
"You need to make those calls," he said. "We need the money."
Interim Nurse Coordinator Gabriel Kristal said strength in numbers and participation by members is crucial to achieving success on a legislative agenda.
"I want to underscore this one theme," he said. "PEF is not me, it's not Wayne, it's not Carolyn Cole. PEF is the public sector members that make up the union. Power is not because anyone is particularly persuasive. The power we have to get things done is based on how organized we are as a union.
"We need to build an agenda so we can speak with one voice that nurses needs matter and so we'll be able to put the pressure on the state to adequately fund to ensure that nurses are fairly compensated," Kristal said.
RELATED: Have a nursing issue? Contact your Statewide Nurses Committee
Now is the time for nurses, Spence said.
"Never in my history as a person in the union movement and in PEF have I seen so much focus on nurses. Nationally and internationally," he said. "The people who have been called saviors for the world have been nurses."