Making a name for himself:
PEF leader's son shines in college football's Rose Bowl

By KATE MOSTACCIO
On New Year's Day, college football fans tuned in for the 2020 Rose Bowl to watch the Wisconsin Badgers and the Oregon Ducks face off in a nail-biting championship game that ended with a score of 28-27, the Ducks slipping ahead for the win.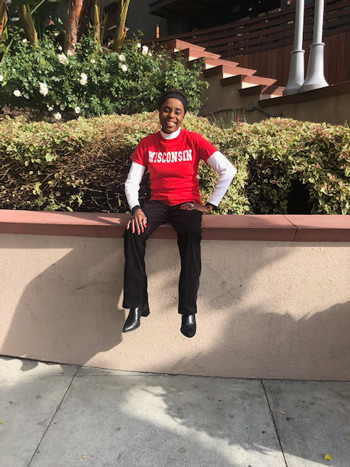 PEF Region 11 Coordinator Bernadette O'Connor was in the stands that day, cheering for and supporting her son, Badgers wide receiver, Aron Cruickshank.
Cruickshank is making a name for himself in college football circles for his incredible speed. Prior to the Rose Bowl, he ran an 85-yard punt return down the field for a touchdown. He pushed past that accomplishment during the Rose Bowl, standing out on special teams as he ran a punt return 95 yards to score.
Video and talk of the play circulated on social media and in the news soon afterward.
"I am very proud of him," O'Connor said. On Facebook, she posted a tribute to her son and congratulated his team. "I said in the comment, it gives me joy and inspiration as your mother to see the type of athlete you have become. Over the years, I have watched you persevere and prepare for this historical and outstanding moment in your football career.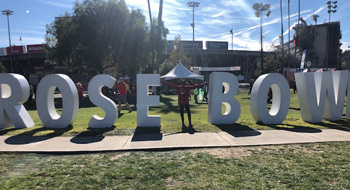 "I am overjoyed and filled with happiness with the way you delivered," she wrote. "Your performance was spectacular with the 95-yard punt return touchdown. Your dedication, practice and hard work paid off."
O'Connor said the Rose Bowl was a wonderful experience, a high point in a long football career for her son.
Cruickshank began playing football at age six, O'Connor said.
"He also runs track and while we were out in the field one day, one of the football coaches from the Brooklyn Chiefs came over and said he heard he was a very good kid and he was very fast. Would I consider him playing football?" O'Connor recalled. "I wasn't too enthusiastic about it. I know football can be dangerous."
She says she agreed to let him play and he grew to love the game, continuing through high school and excelling in the sport enough that colleges were lining up to recruit him.
"He graduated early," O'Connor said. "Almost all the colleges wanted to recruit him and he chose Wisconsin."
Cruickshank, a sophomore, was attending Wisconsin on a football, track and academic scholarship.
After the Rose Bowl, Cruickshank put his name in the NCAA Transfer Portal and has since transferred to Rutgers University to be closer to home, O'Connor said.
---
CLICK HERE to view all stories featured in the Communicator!
---
Follow and Like Us On:


For best desktop viewing use the latest Google Crome browser