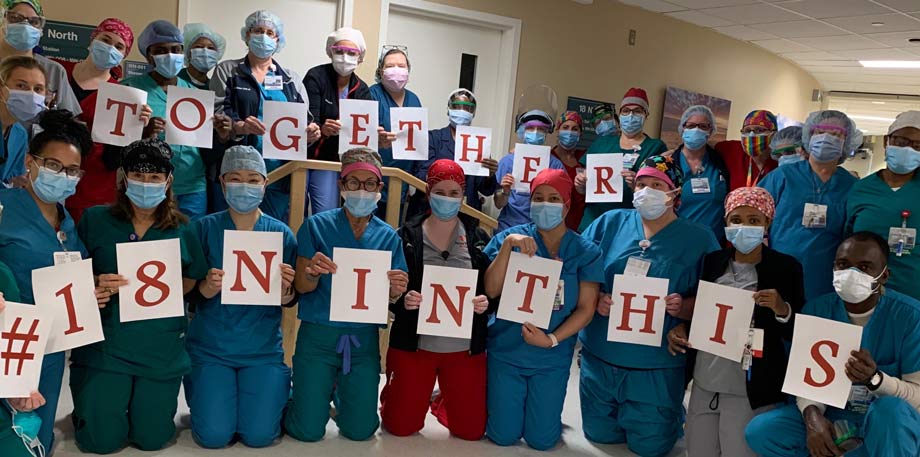 Lending a helping hand: SUNY Upstate nurses aid Stony Brook with COVID response
By KATE MOSTACCIO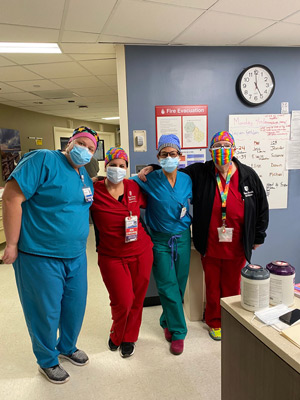 When the chief nursing officer at SUNY Upstate University Hospital sent out a call for volunteers to assist nursing staff at Long Island's Stony Brook University Hospital with overflowing COVID-19 units, PEF member nurses stepped up and answered.
Among the volunteers from Upstate were Kathy Sukhorukov and Suzanne Buck.
Buck, a PEF nurse since 1994, heard the hospital was looking for volunteers to help on Long Island and offered her services for the second round of volunteers.
"I volunteered because I felt like I needed to help the nurses and these patients," Buck said. "I have been in nursing for almost 35 years. I felt very confident that I could go down and help them. It was really an experience I will never forget."
When they arrived at Stony Brook, Buck and the group of volunteers were greeted by hundreds of staff members cheering and holding signs.
"It was an amazing reception," she said. "It was just so humbling. They were lovely. They really opened their hearts to us. It was just amazing."
Buck was assigned to a med-surg floor where the nursing staff did not have critical care experience and she was able to provide skills the patients needed.
"Being in emergency medicine for so many years I had all the critical care experience," Buck said. "I watched over other med-surg nurses. There are certain meds that they are not certified to administer. I would have 6 to 8 patients and have a couple med-surg nurses under me. I tried to take more than they would. It was very overwhelming, these patients were so sick."
The camaraderie between the Upstate and the Stony Brook nurses was immediate.
"I felt as soon as we got there we really connected with these nurses," Buck said. "They greeted us with open arms. I was very nervous, I didn't know what to expect, but they never just said, 'You're on your own.'
"It was so surreal. It felt like I was walking into a war zone," she said. "When I saw all these patients I could not understand what this virus was doing. It is scary how it affected so many people down there. Up here in Syracuse we hardly were touched."
The level of illness took Buck by surprise.
"These patients were really, really sick," she said. "I was very surprised how sick they were and how they were not recovering."
During her time at Stony Brook, Buck said she felt well protected and there was adequate PPE for all the staff.
"I would do it again. It was such a humbling experience," she said.
The drive to help other nurses facing extreme patient load also led Kathy Sukhorukov to volunteer for the third wave of nurses from Upstate to travel to Stony Brook.
"I just wanted to go down and help out considering Syracuse wasn't hit very hard," she said. "They're overwhelmed. Patients are very sick. They are doing the best they can with the resources and staff they have available. Considering the pandemic, I think they've done a very good job."
The welcome for the third wave of nurses was as excited as for the first, Sukhorukov said.
"Our welcome was pretty grand," she said. "They were out front cheering and we had a police escort into the hospital. Everyone seemed grateful we were there. It seemed like the gratefulness never stopped. They were happy to see any group that came down."
Sukhorukov has been with Upstate for two and a half years, working in the Cardiac Stepdown Unit and most recently as a cardio-pulmonary ICU nurse.
"It has been a pretty incredible experience," Sukhorukov said. "I was on 11 South. That was the first COVID ICU that they created at Stony Brook."
She said many of the staff on the unit have some ICU experience but not all of them have extensive ICU skills. Still, she said the nurses have been well prepared. "Everyone has been helpful pitching in and making sure all the patients get the care they need," she said.
Sukhorukov's family was incredibly supportive and the experience life-changing.
"I think it was a wonderful experience," she said. "I definitely think this is a time hopefully we don't ever have to see again. Overall, the way hospitals have responded and how hospitals are sending groups of nurses to severely hit areas, it seems like people like helping each other. I'm glad Stony Brook gave us a warm welcome and glad Upstate let us go down and help out."
The experience was humbling and surreal for Upstate nurses – but for Stony Brook nurses, their fellow PEF members coming to their aid in a time of crisis was truly appreciated and friendships were forged.
"I had a great experience with it on my unit," said PEF nurse Kathleen Capps, who works on 18North at Stony Brook. "The hospital made us one of the first COVID+ units."
The 18North unit is made up of med-surg nurses and Capps said the needs of COVID patients surpassed the qualifications those nurses had.
"We needed intermediate care and ICU nurses to supplement our nurses," she said. "We got three of them and we got very, very close to the nurses who worked with us for two weeks. They were leaders for us and taught us a lot.
"They became part of our family," she said. "We keep in touch with them. It was just an amazing experience all around."
In all her years as a nurse, COVID has provided the most challenges.
"I've been a nurse at Stony Brook for 21 years and we've never had, that I can recall, something so catastrophic that we've needed other nurses to come," she said. "We had shortages around 11 or 12 years ago but they just hired agency nurses.
"This was just a really beautiful thing the way these people came out of their homes and stayed in hotels," she said. "It really is a beautiful thing all around. We had such a good experience the whole thing is terrific."
Capps said the level of patient need has been taxing on the nurses.
"It's been very challenging emotionally for the staff because the symptoms of COVID are generally respiratory related," she said. "We are watching people have trouble breathing and get so bad they have to be intubated."
Having the support of Upstate nurses boosted morale at Stony Brook.
"When they arrived, it ended up making us feel valued," Capps said. "They were really looking at what can we do to help these nurses?  They're going to drown if we don't get them help."
When the pandemic is over and the state reopens, the friendships that have risen from the shared experiences will continue.
"We're going to meet these nurses to go to a Broadway play when this is all over and things open up," Capps said.