Legislators, AFT President join PEF nurses to discuss issues during Zoom forum
By KATE MOSTACCIO
May has traditionally been the month PEF nurses traveled to the state Capitol to lobby, providing legislators with first-hand accounts of nursing issues and ideas for much-needed change.
MORE FROM THE FORUM: Nurses share experiences, get answers at Zoom nurses forum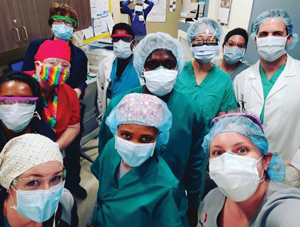 This year, the COVID-19 pandemic prevented that important day but PEF nurses found a way, meeting digitally with legislators during a Zoom forum on May 27. The two sessions brought together legislators, union leaders and nurses to discuss the topics most important to their profession.
"I know we didn't get a chance to lobby together," said PEF President Wayne Spence. "For most of our nurses we have been on the frontlines since March and we have been going hot and heavy. We know quite a few of our coworkers have gotten ill while trying to deal with this virus and treat folks. It doesn't discriminate. Some of our PEF members have passed way.
"We wanted to get together to have some conversations," he said. "This looks like it could be prolonged. We wanted to have a conversation about our experiences since March and what we would like to see done."
More than 10,000 strong, PEF nurses have more power together and are ready to effect change.
"PEF nurses have been the boots on the ground and these folks are not afraid to engage elected leaders and engage PEF leadership for change," Spence said. "I wanted to make sure there was an opportunity to continue the good work PEF nurses have done over the years."
Spence talked about some of the most pressing COVID-19 issues facing PEF nurses and health care workers.
"No one should have to endure the challenges the nurses have had to deal with in the workplace," he said. "There are still issues with dealing with PPE. Some agencies are reusing N95s. They have come up with some way of saying they can clean N95s and reuse them."
N95 masks produced by 3M are intended for single use.
"I went on the 3M website and looked at N95 masks," Spence said. "They were never designed to be reused. It was a disposable mask. Yet the state and some agencies, some hospitals, are reusing them after they claim they can decontaminate the mask. There is no reason for that. There is no process for it, no guidelines for it, it's unacceptable."
PEF is also joining forces with nurses from several fellow unions to demand better access to protective gear, hazard pay, better compensation and protections, and respect for the profession.
"I want to thank all of you, as the president of your union," Spence said. "Thank you is certainly not enough for your sacrifices. I wish I could say to you that you're going to be getting a bonus of some sort for hazard duty. That, effective immediately, you'll be making $60 an hour and that it will be permanent. I wish I could say those things. That's the way we should be saying thank you. We are trying to get things like that to happen. We think people are seeing the issue of safe staffing, nursing shortages, and how all those things relate to a salary that doesn't compensate you for what you do.
"We are fighting with the governor and federal government to get you funding for hazard duty," Spence told the nurses. "We're fighting with the governor to increase your salary grade. It's not good enough for people to say you are a hero and do a video. It has to be more tangible than that."
Legislators address PEF nurses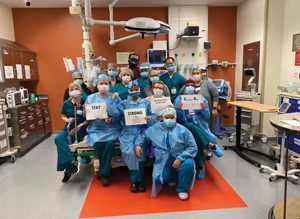 Assemblywoman Aileen Gunther, who represents District 100, joined the morning session and thanked PEF nurses for the vital work they do every day. Gunther has been a strong advocate for safe staffing and has worked to bring about change.
"I remember picketing and screaming from the rooftops about safe staffing." she said. "At this point in time we know that we did not have enough nurses [during the pandemic]. We had to bring people back and bring people from other states. We haven't had safe staffing for a long time."
She said she is hopeful nursing issues will gain traction after COVID has shown how important the profession is to the public good.
"As a representative and someone watching what has been going on, I think the health care system is somewhat broken," Gunther said. "We don't pay our most essential staff the appropriate wages. I think every nurses' union has to come together at the beginning of session next year. We can't afford to have another outbreak like this and we can't afford to lose more nurses from our field."
PEF Statewide Nurse Committee member and Region 12 Coordinator Nora Higgins thanked Gunther for her support.
"You have been my role model for many years," Higgins said. "I'm so happy that you are still fighting hard for us and trying to change the tide for safe staffing. It's so important that we have adequate staffing."
Both Gunther and Higgins talked about their opposition to the reuse of N95 masks.
"The N95 masks on the box does say one-time use only," Higgins said. "I think we are putting our people at risk and it is unfortunate we don't have a supply chain actively moving in America yet."
Gunther echoed her sentiments.
"We have always been taught to follow directions on the box, whether it's pancake mix or something else, and all of a sudden they are changing the tune," she said. "Right now they don't know how long this virus remains in the air. We don't really have the science. I think we should err on the side of caution."
Region 7 Coordinator and PEF nurse Bobbi Stafford highlighted the wage discrepancy between public and private hospitals and the need to be competitive for retention.
"We are in the business of training nurses and since we can't afford to pay them wages comparable with private hospitals, they are immediately leaving." Stafford said. "We spent $100,000 to $200,000 to train them and they leave. They aren't invested. This is a huge issue plaguing the three SUNY hospitals."
Gunther suggested working on legislation to address this.
"Maybe we can work together next year on some piece of legislation regarding those PEF nurses in the SUNY hospitals," she said. "They really don't have an incentive to stay. The nurses are making a lot more in private hospitals. I think we really have to work together to make sure these SUNY nurses are paid appropriately and fairly."
Also joining the morning session of the forum was Assemblywoman Karines Reyes, representing Assembly District 87.
Reyes said she has been in Albany working on COVID-related legislation.
"We all know how much our communities have been impacted by this," she said. "I have to thank the nurses. In the face of these very challenging times they have really shown what they're made of. People showed up every day after working two or three shifts in a row, day after day. Many people didn't go home because they were afraid to infect their families."
As a nurse herself, who returned to work on the floor at Montefiore Medical Center to assist with COVID response, Reyes understands what nurses need and face in the workplace.
"For me [going back to the hospital] was a no-brainer," Reyes said. "It's kind of what nurses do. They are asking nurses to come in from other parts of the country. We had a lot of travelers. Often times they are not committed to the community they are serving. They are not in their home hospital or community. It's important that we hire from within the community.
"When I see my community is struggling and the numbers are picking up, why wouldn't I go serve at the bedside?" she said. "These have been some of the worst shifts I have ever worked. The lack of PPE is an understatement. It is physically and mentally exhausting."
She said the plight of nursing during COVID has been front and center and that publicity may help advance nursing issues.
"Staffing is such an important issue and I think this has definitely made the case for staffing," she said. "When nurses work in a facility that is understaffed they burn out so quickly. They can't wait to get out of there."
Reyes told the nurses attending the forum that the Assembly was working on a bill that offers enhanced whistleblower protections for health care workers.
"We saw many nurses retaliated against because they spoke  to media about inadequate PPE," she said. "We want to make sure we protect anybody who blows the whistle on unsafe working conditions."
After passage of a paid sick leave bill earlier in the year, Reyes said it is vital that nurses speak out if their facility is docking paid time off when a member tests positive for COVID.
"We want to make sure they aren't using it for COVID," Reyes said. "At the end of the day, this is a line of duty issue. They should not be using their personal time for it. If nurses have faced this it is important they speak out."
Higgins, who works as a nurse at Stony Brook University Hospital and sits on a committee with AFT looking at the processing of N95 masks, asked Reyes about her experience with N95 masks that had been cleaned for reuse.
"We are hearing everybody has the same processing company for the masks and there have been issues, such as headaches and rashes," she said.
Reyes developed rashes after shifts with N95 masks.
"I think it's important that we start to look at reusable equipment and investing in it," she said. "There can be a process where things are autoclaved and reused. The same thing they do with intubation trays. In the long run, it would save us money.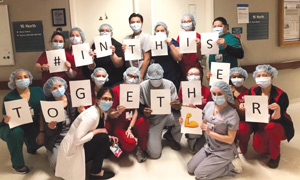 "I think it's also important to note this was a global issue," she said. "If you look where PPE is manufactured, most is manufactured in China. Before we were at our peak, China had been shut down for weeks. Their processing plants as well. We need to look at how we outsource our PPE. Really look into reusable, environmentally friendlier options for our frontline workers."
During the evening session, another legislator joined the conversation.
Senator Gustavo Rivera, who represents the 33rd District in the Bronx, acknowledged May as National Nurse Month.
"I want to express gratitude and admiration to all of you on the frontlines on a day-to-day basis and even more so in times like this," Rivera said. "You've been providing critical and immediate care to New Yorkers facing an incredible and unpredictable situation. We know that you have done it without the proper protective equipment and that you've done it without the proper payment.
"When we are talking about the jobs that are essential, the definition of essential becomes so much clearer," he said. "We have to ensure that you get the support that you need, that you get the equipment that you need. We are trying to do that with legislation."
Rivera said now is the time to push for a bold agenda.
"This situation has shown much clearer than any other moment how clear the dividing lines are in our society," he said. "I still can't believe we are discussing raising taxes on million and billionaires. The folks that are on the frontlines, like all of you, the folks actually sacrificing are the poor working class folks. The millionaires and billionaires are not. They are fine. They're not the ones losing their jobs and homes. We are not taxing them at the place that we should. I think we need to do more about that."
Rivera is looking forward to the work that can be accomplished in the coming weeks, months and years, and said when the dust settles we can't go back to the way things were pre-COVID.
"I think when we talk about what is going to happen post-Corona, we cannot go back to normal," he said. "We cannot go back to the way things were in February, we have to do something different."
President Spence thanked Rivera for years of steady support.
"Not just now but over the years for PEF," he said. "If everything was normal, we would have had our nurses lobby day and we would have probably knocked on your door like we did in the past.
"All you hear about since March are essential workers," he told the senator. "We've talked to nurses at SUNY Downstate and I can't begin to tell you the horror stories in the very beginning."
Spence told the forum attendees about a day at SUNY Downstate when a PEF nurse had been speaking to a patient on a gurney, had left to assist another patient, and when she returned that first patient had died and fallen to the floor.
"For a while that was their experience for a lot of nurses," he said. "Can you get used to that? To see what nurses have had to deal with across the spectrum, my concern is that there are opportunities to deal with what they dealt with. It's similar to what soldiers deal with in times of war, seeing death around them. There are going to be issues.
"I hope the city and state of New York don't forget about the mental health of our nurses," Spence said. "What they went through in the last couple of months is not natural unless it's in times of war — and war is not natural in any sense of the word."
AFT's Randi Weingarten joins with nurses
"It's hard to know where to start given that there are not enough words to say thankyou and there are not appropriate words to convey how deep not only mine but how deep a nation's gratitude is to the people who have been on the frontlines of all of this," Weingarten told the nurses attending the morning session. "We have 200,000 health care professionals and essential workers who, every single day since February, have been risking their own lives and the lives of their families, given what we know about COVID, to actually make a difference in the lives of other people."
She said health care and public service employees going into the profession know they may be put in harm's way to do their job – but not to the level caused by COVID.
"Nobody goes in knowing they are going to risk their lives every single day and not have adequate PPE," she said. "Wayne and I were on the phone many a Saturday or Sunday figuring out which decibel of screaming was going to get the governor's staff attention because of the things we were hearing."
AFT purchased $3 million worth of PPE to distribute to affiliates, including PEF, and PEF sought both donations and made purchased of PPE to support the needs of members.
"This is personal to all of us," she said. "What we tried to do as a union in the first phase, we had our first press conference on COVID on February 4 — the day of the State of the Union. We understood that it took more than just washing hands and not touching your face to deal with this virus. The fact that the nation was downplaying it, that we hadn't done any travel alerts.
"If we had the information we had in the beginning of March, in the beginning of February, so there wasn't the Hunger Games on testing and PPE, protocols could have been negotiated," she said. "All of this stuff could have happened in February instead of everything turning on a dime."
Weingarten said the preparation in the early days of the pandemic was lacking but the preparation for reopening shouldn't be.
"I'll be damned if we don't try to prepare better in the reopening than what happened to us in the closing," she said. "We try to focus on the wellbeing, safety and health of our members and communities. Focus like a laser on the safety and health."
Infection numbers are dropping and New York is slow reopening, but the future is still unknown.
"We don't know if there will be a second peak," Weingarten said. "Or if there is one, when it is. Twenty states are seeing a rise as they reopen."
To reopen, certain steps are crucial, Weingarten said.
"We know that we need to have public health tools that reduce the transmission of disease," she said. "We have to have infrastructure for testing, tracing and isolation. In the workplace, we have to have ways of reducing transmission. That's why we're talking masks, social distancing, sanitation, cleaning and washing hands."
Representatives from the labor movement must be at the table, she said. And, so must the financial means to accomplish what's needed.
"When you think about what we really need to do, it actually costs more money not less," Weingarten said. "Just like we had five million phone calls and letters into the Senate when they were contemplating [Betsy] DeVos [for U.S. Secretary of Education], we need to have that degree and level of intensity in terms of this fight. The public is with us.
"Nurses should not be furloughed in this moment when they have done everything," she said. "We should actually be giving you what you need, including bonus pay, because of what has happened. You are the ones who got us through a pandemic the likes of which we have not seen in a 100 years."