Importance of safe nurse staffing levels highlighted during COVID pandemic: Ignoring calls for safe staffing, state leaves hospitals unprepared
By KATE MOSTACCIO
Each year, PEF nurses spend a day lobbying at the State Capitol for the same thing – safe staffing levels. With the COVID-19 pandemic and the extraordinary increase in patient loads across the state, the importance of safe and adequate staffing levels is glaring.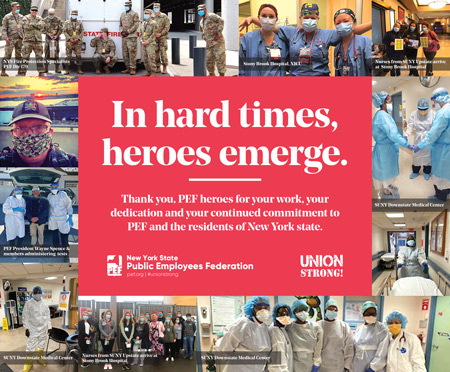 "Nursing shortages is of itself a 'pandemic'," said Joan Rosegreen, an ER nurse at SUNY Downstate Medical Center and a member of PEF's Nurses Committee. "I have testified at the Department of Health on the importance of nurse-patient ratio and providing more staff but the usual response is nothing is done to alleviate nurse patient ratio  issues which would preserve our nursing staff so that they can better serve their patients.
"When the COVID crisis came around all nursing staff were told they will be mandated to work four extra shifts every 13-day schedule," she said. "They had no choice in the days they would have to work and despite having all the agency nurses they are still expected to show up for their mandated shift in addition to their regular shifts . Most nurses were given a schedule to work four days with one day off and back to work for day five."
PEF nurses are dedicated to the health and safety of their patients. Being on the frontlines of this pandemic, treating a heavy load of patients, has taken its toll on the nurses. Something Rosegreen has seen firsthand.
"At the outset of the crisis I was taking care of a maximum of 10 to 12 patients at a time and this was the new normal for all the nurses in the Emergency Department," Rosegreen said. "We were given patients and they were dying within an hour or less of arrival while others would expire within 2 to 4 hours of admissions and as soon as they would die another patient waiting in line would replace them. Some would come in with CPR in progress and die within minutes of arrival. Others would be 'dead on arrival'. This type of activity has been overwhelming, depressing and traumatic for the nurses."
To handle the influx of patients, the hospital increased the staff by hiring temporary agency nurses from other states  and they are being paid at higher salary rates — double the rate of PEF nurses. With this temporary "fix" in place , "the question arises 'what is going to happen when this COVID crisis is over and the agency nurses leave?'," said Rosegreen. "Of course we  all hear the chorus response back to business as usual, short staff. The issue surrounding nursing shortages will not be resolved because it's all about money."
Bringing in agency hires during a crisis is a Bandaid, not a solution.
"Being a state facility the nurses know that the salary will be low and the volume of work will increase  and they are expected to perform without adequate staffing," Rosegreen said. "During the month of April when the volume of patients was increasing and we were in the middle of the crisis we received some extra help but it was  always consistent throughout the hospital. If a nurse became ill due to this pandemic there would be no one to replace that nurse because there were just not any extra nurses available to call.
"A large  percentage of our nursing staff have been affected by this COVID virus and with staff out it means working with less staff," she said. "During this crisis we appreciate the extra help when it's given but the underlying issue of inadequate staffing will be there once this is over and the agency nurses contracts are over and we get back to our regular routine."
PEF's nursing coordinator, Gabriel Kristal, said the impact of safe staffing on patient care is well documented.
"Studies have shown over and over again that patient care is improved and mortality rates decline when there is proper staffing," Kristal said. "All of the professional associations have agreed. Costs actually go down as a result of safe staffing."
Despite lobbying efforts and study evidence, the levels haven't changed. A look at PEF's membership numbers show full time equivalent nurses at 10,456 in 2010, 10,111 in 2015 and currently 10,386.
Why have the numbers remained similar despite lobbying?
"Hospital administrators have taken a short sited approach to wanting to be able to maintain status quo," Kristal said. "This year, we've seen how important nurses are while we're enduring a national health care crisis. For many nurses in many hospitals there is a health care crisis every day and they are faced with not being able to properly care for the patients they receive."
COVID-19 has only exacerbated the problem.
"When we don't have adequate staffing levels, we've seen nurse infections increase and nurses not having time to properly put on PPE," Kristal said. "The risk to both caregivers and patients is increased."
Rosegreen highlighted the risk.
"Being at the frontline to receive the patients as they arrive by EMS has not been easy for the nurses," she said. "There is always that question in the back of our minds and the fear of uncertainty and of infecting our families."
She believes nurses will need emotional support and lots of therapy after the traumatic  experience of COVID-19. She fears  the state will likely lose nurses to retirement or to more attractive salaries being offered by private institutions.
Still, Rosegreen remains hopeful.
"I believe and hope that the Nurse Patient Ratio Act will become law so that we can have better staffing which will allow us to provide the level of care the patients need as well as decrease the amount of  injuries among nurses, promote wellness and have a more healthy and productive staff," she said.