Fire Protection Specialists: We deserve the same protections, compensation as other emergency responders

By KATE MOSTACCIO
As contract negotiations continue, members have reached out to the Contract Team to share their stories. PEF has received many letters from Fire Protection Specialists at State Fire, detailing the sacrifices they make on a regular basis and asking to be treated fairly in return.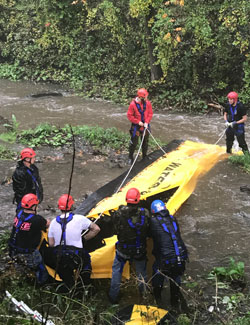 Of particular concern to many are protections in line with other emergency responders.
"I have been a Fire Protection Specialist for 17 years and have responded to incidents all across this state," wrote a member in the Life Safety Branch of the agency. "When the citizens of New York need help, they routinely call on us to help. Why? Because we never say no and we get the job done.
"All we ask is that we are paid (1) to our level of training and education, and (2) commensurate to our risk in protecting the civilians of this great state, (3) comparable to others who perform similar duties," the member wrote.
Another, a fire protection specialist for eight years in the Special Operations Branch, said in just the past six months they have responded to a trench rescue, flooding, and numerous hazardous materials incidents — but without protections in the event of injury.
"Under our current contract, I don't even qualify for hazardous duty pay, even though I continually put my life at risk to protect the citizens of New York," the member wrote. "Many times, including holidays and family gatherings, I have left my family to go help others at a moment's notice. We need your help to make sure we are properly protected in case the unthinkable happens and we need to be compensated fairly."
Deployments can take members far from home.
One, who deployed to Puerto Rico following the recent earthquakes, left a family behind that struggled for the two weeks the member was gone.
"This is two weeks away from my wife and son in the middle of the 'snowy season,'" the member wrote. "I am missing my son's 16 birthday and his last two track meets … which are the biggest meets of his high school track career.
"This is not easy for me and coming down here was not an easy decision … but it needs to be done and when called, I said 'send me.'" The member added that fire protection specialists are never really "off duty" and routinely their jobs impact their families.
Another member and their husband are both fire protection specialists who love their jobs but also face countless dangers without the comfort of protections.
"My husband has been sent to numerous hazardous materials calls that have resulted in him taking actions that put him in precarious situations," the member wrote. "He has drilled into gasoline tanker trucks and ethanol tanker trucks; he has gone down range in a Level A suit to determine what a substance was that led to two Border Patrol Officers becoming ill. He has done all of this without the protection of disability retirement if he should get hurt.
"Each time one of us is put into one of these situations, the other waits, wondering which phone call we might receive," the member continued. "Will it be the, 'Hey honey, I'm at the hotel, everything is ok' call or will it be the, 'I'm sorry to inform you …' call?"
The member joins the chorus of fellow fire protection specialists calling for change.
"We have done our jobs without complaint and will continue to do so," the member wrote. "We are asking for fair compensation as we put ourselves in harm's way, spend time away from our families and continue to work with other emergency response agencies who are compensated at higher rates than us and afforded the disability protections we are not."
Disability benefits are statutory and are not something that are negotiated in the contract.
Fire protection specialists with K9 partners have unique needs.
"When I agreed to take on a K9 partner I signed on for extra dues," one member wrote. "My duties and responsibilities to my high drive, high energy partners don't end when I close the office door at the end of the day. I'm the sole handler for my partner and he is not a 'family' dog when he goes home. There are rules and boundaries that must be maintained. If these are broken then all the training begins to break down and when we're called to perform our job as a team lives are literally in the balance."
Unlike other agencies with K9s, fire protection specialists aren't compensated for these extra duties, the member wrote.
"All the extra time, training, stress, and sometimes aggravation is not compensated like our partner agencies in New York state, whom we work side by side training and responding to emergencies," the member wrote.
If you have stories to share, send them to gro.f1627768838ep@sm1627768838ailli1627768838wd1627768838.
---
CLICK HERE to view all stories featured in the Communicator!
---
Follow and Like Us On:


For best desktop viewing use the latest Google Crome browser