DOL staffing decline, aged computer infrastructure hindered COVID unemployment response
By KATE MOSTACCIO

The COVID-19 pandemic and the resulting "NY on PAUSE" left many New Yorkers without jobs and scrambling to claim unemployment benefits.
As of May 19, the New York State Department of Labor (DOL) had processed claims amounting to $9.2 billion in benefits since the beginning of the pandemic, including $290 million in back pay processed in the preceding two weeks.
To handle the massive volume of new claims, the DOL was forced to hire hundreds of staff, rely on volunteers from other departments and state agencies, and outsource computer infrastructure upgrades to outside vendors to keep up.
Even then, the public outcry over processing delays was prevalent.
DOL staffing levels have been in a decline over the last 10 years. In 2010, there were 650 PEF-represented labor services representatives. That number dropped to 522 in 2015, and further to 459 in 2020.
Staffing decline
PEF Executive Board member Helen Esposito, a longtime DOL employee, has seen the drop in staffing over the years – and with it, a drop in skilled labor services representatives.
"It was an impact when they closed the New York City office down in 2006," she said. "We lost a huge amount of staff – over 200 PEF members. They haven't rebuilt that number with permanent staff. It has hurt and it has continued to hurt."
Since the closing of the New York City office and the staffing drop that came with it, New York has faced a number of disasters, though none as bad as the COVID pandemic.
"We've been through several disasters," Esposito said. "9/11, the airline industry crash that followed shorty after,  Sandy,  the 2006/2011 upstate floods, the recession of 2008 thru 2014- it hasn't been easy. They try to bring in some staff. It's difficult in the upstate regions because you're not getting the people. We're having trouble to even get hourlies in Endicott. It's not an easy thing."
Previously, even with declining staffing, DOL has been able to weather disasters but the magnitude of COVID has been the problem.
"We were always able to handle them but all other disasters were concentrated disasters," Esposito said. "You didn't have the amount of people that were filing. This affects New York, as well as cities and states with residents that work in New York. We have not only New York but also New Jersey, Pennsylvania, Canada, Massachusetts, Vermont, Connecticut and Ohio , the states surrounding New York that people come from along with those who nationwide actually work remote for NY based employers and must file with NYS."
Losing experienced staff has also affected the foreign language lines.
"New York City staff had experience," Esposito said. "Every language was available. Language lines have been a problem and we don't have the staff to do the translations."
Esposito said DOL is only bringing in hourly staff, rarely any permanents, and hourlies don't get the full benefits offered to permanent staff. "They're one of the main things we're fighting for in the contract," she said. "The union is doing a lot."
State workers who volunteered to help process claims during the pandemic to help overwhelmed regular staff have stopped helping because of pay issues.
"It's not DOL, it's the state itself and it's the new payroll business center that's hurting people," Esposito said. "Those volunteering to help us out are no longer volunteering. Who wants to get paid at a lower grade to do work? They weren't told about that.
"I'm mandated overtime right now, but what's going to be happening two weeks from now?" she said. "We are losing people and volunteers to process these cases. With the lack of staffing, we are starting to come into a whole lot of issues. DOL does its best to help us. They've been trying their hardest, working with us side by side."
Bringing in hourlies and CSEA clerical staff might fill the seats that have been left empty with declining staffing levels, but it requires a skill set and knowledge to process claims to their end.
"We're pushing to the best of our ability," Esposito said. "You need the experienced staff to finish out claims. The new people can take a claim but you need the experienced to look over a claim. Computers can't look at missing information. If employer information isn't completed or if a work location isn't completed. Claims that have issues where people are getting severance pay, we have to explain to them why they aren't getting certain weeks. These are things that only humans can do."
After 9/11, DOL staff were working on cases for a several years following the disaster. With three centers, that workload was manageable. With New York City long shuttered, the fallout from COVID remains to be seen.
Outdated IT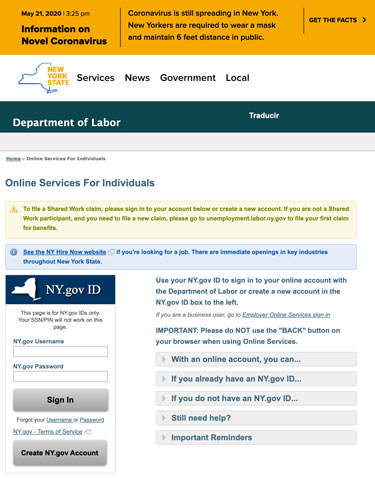 Aged computer systems have exacerbated the problems New Yorkers faced trying to file claims online as COVID ravaged the job market. The need for upgrades isn't a new thing and has been on labor/management agendas for many years.
PEF Retiree Chapter 3 President Angel Cook, who worked for DOL from 1987 to 2018, said when she started working for the state, computers ran on a mainframe system and the base coding was COBOL. She said COBOL, which was popular from the 1960s to the 1990s, is outdated and hard to learn but it is still in use at DOL.
"The COBOL mainframe programming seems outdated to me," she said. "Most people are not taught COBOL in college anymore." She pointed to a 2013 article that backed up her point, stating that colleges are failing to teach old programming languages despite continued usage in the business sector.
"A poll … of academic leaders from 119 universities worldwide found that 73 percent of academics running IT courses do not teach the COBOL programming language on their curriculum, despite 71 percent believing that today's businesses will continue to rely on applications built using COBOL for at least the next 10 years," the article stated.
The lack of a user-friendly interface has made pulling staff from other DOL departments and volunteering from other state agencies that much more difficult, as the learning curve for the antiquated systems is high.
DOL staff from other departments report the system isn't easy to use or navigate. Cross training that took place years ago between different departments has fallen by the wayside as the agency changed.
"When the unemployment offices were local, the Labor Service Representatives (LSRs) in both the employment offices and unemployment offices were cross trained so both could handle unemployment, if needed," Cook recalled. "Since unemployment is now a call-in system, the employment office LSRs are no longer trained to assist with unemployment."
DOL has been slowly updating systems along the way before the pandemic but a complete overhaul was far from reality. Cook said the agency had been modernizing unemployment systems piecemeal by contracting out sections throughout her tenure with DOL. Esposito concurred that updates have been coming albeit slowly.
"They have been working on a modernization program since I worked in the city," Esposito said. "They finally have gotten most of it completed and approved. A lot of the delay deals with budget cuts, finding the right vendor, trying to figure out the system, and modeling on other states that work really well."
Esposito gave her agency and her commissioner credit for working tirelessly during extraordinary circumstances.
"It's driving people crazy but we're doing what we can do with what we've got," she said. "When this happened everybody was caught off guard. Yes, our systems crashed. NYSDOL was one of the fastest states to get this done. Our commissioner, I give her credit. They got a vendor in there and they are doing their best to fix the problems with the system."
"It's going to be a long process because they don't have the manpower," Esposito said. "But the system is running way easier and people are getting through. There are going to be kinks. There are going to be growing pains. This has never happened before."
At the end of the day, Esposito's goals are simple.
"My goal is just to make them smile and I do not let them off my phone until they do.  We may not be on the frontlines but we are keeping people in their homes and food on the table ," she said. "The people of New York rely on us."