PEF files Class Action Grievances, lawsuit over
unfair COVID-19 overtime practices
By KATE MOSTACCIO
Many PEF members in the Department of Labor (DOL) are getting a raw deal – mandated to work 15 hours of overtime a week, many doing out-of-title work, and getting paid at less than their regular overtime rate.
PEF has been aggressively fighting against this injustice by sending a Cease and Desist letter to the state demanding immediate action on the issue, and filing three Class Action Grievances, dated May 1, June 1 and July 1. The grievances call out the state for failure to compensate PS&T unit members for overtime at their regular overtime rate and note "overtime or extra service work may only be performed in lower and higher salary grades on a voluntary basis."
Efforts have thus far been met with resistance and the union was left to take the next step and file a lawsuit against the state.
"After numerous attempts to correct this inequity via phone conversations and a cease and desist letter, PEF has now begun legal action against the New York State Department of Labor over this mistreatment of our members after they rose to the occasion to help out New Yorkers during this pandemic," said PEF President Wayne Spence.
Spence said members who continue to face mandated overtime directives should take specific steps in response.
"If you are compelled or directed to change your previous LATS submission, there is a statement you should codify within your email response to the request," Spence said. That statement should read:
For clarification, you directed me to change my submitted pay period time record(s) regarding overtime I was mandated to work. Although I do not agree with the direction to change my entries into LATS, I have made the change to reflect your direction. I am not waiving any of my legal or contractual rights for the overtime worked.
In addition to union avenues to remedy unfair treatment of members, PEF is working with Sen. Bob Jackson on legislation that would amend the Civil Service Law in relation to ensuring the payment of overtime due and owing for services rendered to combat the pandemic.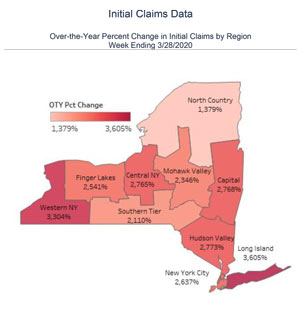 DOL members found themselves inundated with extra work after the COVID-19 shutdown, which may have helped flatten the curve and slow the rate of infection, but which left countless New Yorkers without jobs. For the week ending March 28, initial claims for unemployment increased a staggering 2,674 percent over the previous year.
When the DOL found itself buried under a staggering mountain of claims, volunteers stepped up to assist with processing claims. These volunteers were unsure how they would be paid, but they helped anyway. Many would later end up mandated to work overtime and have since spent their days supporting the unemployment claims staff.
It soon came out that these members would not be paid at their regular overtime rate but at a rate determined using a combination of their regular rate and the rate of lower grades.
"People were happy to volunteer because they wanted to be helpful with processing unemployment insurance claims and they knew that unit needed all the help they could get," said Scarlett Ahmed, a Division 245 steward and supervising labor services representative at DOL. "They were never told what they were going to get paid. Then it became mandatory and it's been that way going on six weeks and again, people have not been told how they'd be paid."
Numerous other DOL staff and leaders are calling out the agency for mandating overtime and setting pay rates lower than what members would make working overtime in their regular grade.
"In the beginning, some members were doing regular work during the day and working overtime for UI on PUA (pandemic unemployment assistance)," said Division 281 Council Leader Cathy Okenica. "All of sudden everybody who was volunteering to work overtime on these projects was sucked into it full time.
"Two weeks after, they got a notice that you are not going to be paid your salary grade," she said. "If you are a grade 18, you won't get grade 18 overtime. Members were angry but waiting for answers. They had no choice and were waiting to see what was going to happen."
Okenica said paychecks came out reflecting the regular overtime pay rate and for a moment there was a sigh of relief. That changed shortly after when an another email was sent directing members to make adjustments in the payroll system.
People in grades 20 and higher, Okenica said, would get overtime based on a blending of their regular overtime rate and that of a grade 14. Lower PEF grades would get a blending of the regular rate and a grade 9 – a CSEA clerk grade.
"Albany's reasoning is that, well, you're doing the work of a clerk," Okenica said. "That's not correct. They are sending out determinations and clerks are not allowed to send those."
Ahmed agreed the work is more than a clerk's work.
"We're being asked to do work we've never done before that requires understanding of unemployment insurance policies, procedures and terminology," she said. "We're using technology we're not used to and it's not easy to use. It's not user-friendly or intuitive."
Communication on the pay rates and mandated overtime has been confusing at best. Members report numerous emails, many changing or clarifying previous correspondence. And ,understandably, members are upset.
"They don't deserve this," a member whose staff has been mandated to work overtime with the lower rates stated. "It's not working for any of us."
She said staff never agreed to work lower grades for lower pay. Her staff members are mostly PEF grades 16, 17 and 18 and they are getting overtime at a combination of their overtime rate and a grade 9.
"When you break it down, that's less than what they make straight time," she said.
The work is exhausting, which adds insult to injury.
"You never know what you're going to be doing," the member said. "This is just a train wreck and it is not getting better."
She said she has staff working seven days a week to accommodate the mandated 15 hours.
"Some haven't had a day off since this started," she said, pointing to home and other obligations that bar some from working late nights and force them to work through the weekend.
The member said her staff members are looking to PEF to act on the problem. She advised them it takes time and not to give up hope.
"We have to work the overtime," she said. "We have to get through this pandemic before they can do anything."
Another PEF member working at DOL said she was happy to volunteer for the overtime because it was the right thing to do for New Yorkers in need.
"At this time, I have worked approximately 300 hours of overtime and regularly work 12-hour days, seven days a week," the member said. "I want to help my friends, family, neighbors and fellow New Yorkers make it through this difficult time."
Like the others who contacted PEF, she was unaware she'd be paid less than her salary grade for all her overtime.
"It was not until three weeks into working overtime that I received a vague email stating that I would  not be paid at my normal overtime rate as stated in my employee manual and instead my overtime would be paid in accordance with a Bulletin that was written in 1986," she said. "This means that I would be paid at a much lower rate than my assigned grade.
"To this day, I still do not know what that rate is," she added. "I have asked supervisors and several different offices, yet have not received a response. PEF has sent out guidance instructing me to confirm my rate of pay prior to working overtime, however no one seems to have this information when requested. We are the Department of Labor – how does something like this happen?"
The situation has left the member feeling exploited.
"I am feeling frustrated and my extensive efforts completely unappreciated," she said. "I feel that I have shaken every tree in order to get answers and help on this issue."
Another DOL member has had the same issues as union leaders and fellow rank-and-file members – no one has any answers.
"The DOL will not tell us what our overtime pay rate will be," he said. "They indicate to contact the Business Service Center and they will not give us an overtime rate."
He said some members are still waiting to even see a paycheck.
"The DOL HR and Business Service Center indicated we should be paid overtime within four weeks," he said. "Most staff have been waiting over six weeks and have not been paid overtime. The DOL and Business Service Center pass the buck to each other and can't give an answer."
The member whose PEF staff members have been mandated said she has been told they should suck it up, which she feels is unfair.
"People say you should do this for the benefit of the state," she said. "We are trying our best to get through everything. I don' t want these people to be misused, it's a hard enough job as it is."
Ahmed has heard similar comments.
"It makes you feel guilty," she said. "They say, well the state is broke and all these people are waiting for their benefits. But staffing is down and it's an old system. Then you are told you have to do all this work and then not get paid what you as a union member and civil servant deserve."
Ahmed has heard from many members about their difficulties not just with the pay rate but with so much mandated overtime in general.
"As a union leader, I have heard from people who have child care issues," she said. "It was fine when they were working regular hours, but now they are expected to be working all the time. And not get paid what they would have."
After hearing from members at DOL, PEF mobilized to fight for fair pay for those impacted by the mandated overtime.
"PEF is extremely concerned about the state's failure to pay PEF members both COVID-related overtime and its failure to pay COVID-related overtime at the appropriate rate of pay," PEF President Wayne Spence said. "We are well aware that our members were asked to sign up for overtime without knowing the rate of pay and have also been mandated to do overtime in lower salary grades. We are also mindful that we have members in salary grades 23 -27 who are doing both in-title and out-of-title COVID-related overtime and are not being paid or, in our opinion, not being paid properly for hours in excess of 47.5 per week.
"Numerous negotiations have been held with GOER, DOL and other agencies about the proper overtime rates of pay for this work," Spence said. "If you are in a salary grade 27 or below title and are not being paid for overtime, or you are not being paid at your proper overtime rate of pay for COVID-related overtime work, please contact your PEF Field Representative to assure your inclusion in the class action grievance."
The plight of members has also seen some coverage in the media (here and here).