DiNapoli assures PEF Retirees of state pension fund strength

By SHERRY HALBROOK
Hundreds of members of PEF Retirees Chapter 8 turned out in Albany Monday, March 2, for their quarterly meeting and to hear state Comptroller Thomas DiNapoli update them on the latest news regarding the state pension fund and to answer their many pension-related questions.
As the sole custodian of the state Common Retirement Fund, DiNapoli assured the state retirees that the fund is in good shape and is well positioned to weather the turbulence in financial markets sparked by concerns about the potential disruptions to business and trade resulting from the global spread of the coronavirus (COVID-19).
DiNapoli told them the market had rebounded 600 points just that morning from the deep fall it took at the end of the previous week. He said the fund ended 2019 with $225.9 billion and he is very hopeful it will make a strong showing when the state's fiscal year ends March 31 of this year. A year earlier, the fund weighed in at $210.5 billion.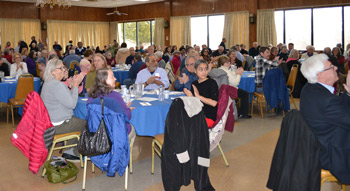 The comptroller noted that the "bull" market on Wall St. has gone on much longer than expected and investors have generally been expecting "a correction" to happen soon. "The market is down now, but we don't know if that is the natural correction that we've been expecting or if it is only a temporary one."
No one in the room should worry about their pensions, DiNapoli told them. "You could all live to 110 and you would be fine. Our challenge is (to keep the fund strong to pay the pensions) for your son or daughter or your neighbor who is just starting to work for the state now."
Currently 1.1 million people are in the pension fund, he said. More than 80 percent of those receiving their pensions continue to live in New York and are important in supporting the state economy.
Help keep politics out of it
As the sole custodian of the state pension fund, DiNapoli said he generally relies on expert investment advice, but he is very opposed to meddling by the state Legislature and he asked PEF and its members and retirees to speak out against a bill currently in the Legislature that would force the fund to divest from fossil fuels.
"It's all politics in the Legislature," the comptroller said, "but it's my primary responsibility to protect the fund. We need you to speak out against any intrusion on the independence of the state comptroller."
DiNapoli also mentioned the governor's state budget proposal to reduce the state reimbursements and supports to its retirees for their Medicare costs. He said that he opposes such changes and feels, "It's wrong to shift the costs from the state to retirees."
His main power regarding the fund, DiNapoli said, is his ability to set the necessary contribution rates that public employers such as the state and local governments must pay into fund to support their employees' pensions. He was able to reduce those rates for six years in a row, but that ended last year when "we kept them flat."
He told the audience that between 78 percent and 79 percent of their pensions come from the interest earned on the pension fund's investments. "We are 96 percent funded, the fourth highest in the country. We're trying to balance many things and stay at 90 percent or higher. We're more conservative (in making investments) than many retirement funds, but we're projecting an average return on investment of 6.8 percent."
Seeing the big picture
The financial markets that affect the pension fund investments are global, and the state's revenues and resources are affected by things that go on at both the regional and national levels, DiNapoli explained.
The comptroller reviewed employment and growth issues in the various regions of the state and how they affect the state budget, with the downstate and New York City area leading in job growth. He cautioned, however, that some upstate areas continue to struggle. Projected state spending is higher than the projected revenue growth and that is worrisome. Much of that gap is because of rapidly rising Medicaid costs, he said, but at least more people are being covered and that is important.
People are living longer and that is another factor that drives up health care and pension costs, DiNapoli said. Everyone is waiting for a report from a group that the governor appointed to review the Medicaid situation and make recommendations that are due by April 1. Labor is represented in that group by 1199 SEIU President Dennis Rivera.
The public sector has lost 70,000 jobs, DiNapoli said, and that means "Many state agencies are doing more with less, and sometimes doing less with less."
The comptroller added that he and other state leaders "are very concerned about what happens in Washington (DC). We send more (tax revenues) to Washington than we get back (in federal aid)." He said it comes out to New York receiving just 91 cents in aid for every $1 New Yorkers pay in federal taxes. While the national average return to states is $1.21 in aid for every $1 their residents pay in federal taxes.
Improving your access
DiNapoli took many questions and heard comments from retirees in the audience, with many of them expressing frustration with how long it takes to get responses when they try to contact the retirement system that is part of his office.
The comptroller apologized for the delays and suggested that members of PEF Retirees contact their staff at PEF, who could help expedite their issues if it's urgent, since the PEF Retirees staff maintain close contact with top retirement system officials.
Meanwhile, the state retirement system is working hard to roll out its new online services that are ment to give pension system members (both those who are actively employed and those who are retired) quick access to information they need and services they want.
"Switching to the new system has created a backlog (of unanswered inquiries), and we don't want to roll out new phases of the system until we are sure we have fixed any problems with the first phase. We're doing it right. We're learning and when we find problems we're fixing them. We just don't want to roll out anything new until we get the existing system fixed."
DiNapoli thanked PEF for its staunch support of him and his role as sole custodian of the pension fund. And he thanked the retirees and PEF members "for being supportive of your union." Labor unions are a powerful "counter power" against anti-worker interests. But the unions are only as strong as their members make them, he cautioned.
"When you meet a new state worker, tell them a strong union makes a difference," DiNapoli said. "Make sure those coming up behind you know the good things they have now were fought for and won by the people who were there before you."
---
CLICK HERE to view all stories featured in the Communicator!
---
Follow and Like Us On:


For best desktop viewing use the latest Google Crome browser