Contract team holds the line on key issues
By KATE MOSTACCIO
On December 10, the PEF Contract Team met with the state's negotiators, prepared for meaningful conversation on the issues important to PEF members in a new PS&T contract.
"We attempted to have a productive dialogue on key issues, including across-the-board annual salary increases, longevity, location pay, long-term hourly employees, safe nurse staffing ratios and related issues," Contract Team Chair Darlene Williams said. "Our efforts to engage in fruitful negotiations are too often met with resistance and delays."
The team also sought to follow up on requested information needed to negotiate a better PEF dental benefit.
"We were told we can expect to wait over another month to get the information," Williams said. "We are determined to address long overdue improvements to our dental benefits but apparently the state does not share our sense of urgency in getting us this information, which is necessary for bargaining."
The team has postponed January bargaining to work on proposals and strategy and to await the requested information.
"This planning time is essential," Williams said. "We will conduct our next bargaining session hopefully in February, once the requested data is received."
To achieve a fair contract that respects the work and dedication of members, negotiations take time. Of the large state unit contracts that expired in 2016, it took anywhere from just over a year to just under three years before ratification of new contracts.
"In 2016, PEF was the first large unit to negotiate a 2016-2019 contract — and we did it without givebacks," Williams said. "Other large public-sector units piggybacked on our success and negotiated contracts that stretched beyond 2019, but contained givebacks in later years.
"Now, we are the first large unit to negotiate on a contract that expired in 2019," she continued. "And we are standing firm on the issues you have indicated are important to you and your families."
Williams said the team understands members are anxious for progress.
"We know many of you share our frustration and sense of urgency to get a new contract and wage increases that come with it, but, together, we refuse to negotiate a bad deal and will fight to get you the respect and the contract you deserve," she said.
Remind the state what we do
In 2020, the PEF Contract Team needs more members to stand up and participate in the PEFDOESIT campaign.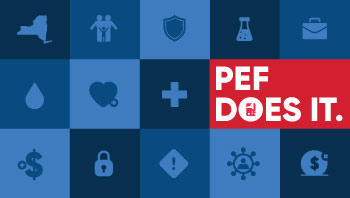 "Unfortunately, the state needs to be reminded of the vital services our members provide all over New York state, every single day," Williams said. "Who protects the state's water and air supply? PEF does it. Who designs safer roads and bridges? PEF does it. Who takes care of our loved ones in our state hospitals? PEF does it. Who keeps our communities safe by supervising parolees in our communities? PEF does it.
"Let's remind them. We can spread our message efficiently and effectively by joining our members' 52,000 voices," she said.
PEFDOESIT signs are available for download on the PEF website.
Choose a premade sign or create one of your own, snap a picture of you and your sign, and share it on your social media accounts with the hashtag #PEFDOESIT. Tag local and state leaders. And, don't forget to send it to PEF so we can share it on our accounts, too.
---
CLICK HERE to view all stories featured in the Communicator!
---
Follow and Like Us On:


For best desktop viewing use the latest Google Crome browser