Breathing life into the decades-old Hall of Birds at the NYS Museum with renovations, new displays

By KATE MOSTACCIO
New York is home to more than 240 species of birds that breed within the state and more than 450 that spend part of the year here, spread across diverse habitats from tidal bays and marshes to freshwater wetlands to evergreen forests.
If you've ever wanted to know more about that bird in your backyard, or the one you saw hiking, or if you want to get a closer look at some you've only heard of then the New York State Museum is a good place to start.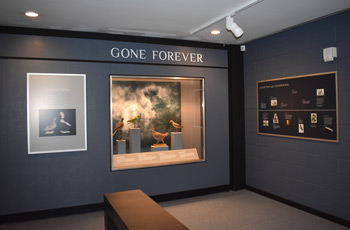 PEF member Dr. Jeremy Kirchman, a scientist and the curator of birds at the museum, has been hard at work with a team of dedicated PEF and CSEA members renovating the Hall of Birds dioramas, installed in the 1970s, adding stunning graphics, cleaning and touching up the taxidermy mounts, and designing new features and educational displays.
"We wanted to brighten it up," Kirchman said, walking from one habitat display to another. "We used digital photographs printed on canvas in the backgrounds of each diorama and most of the same taxidermy mounts."
The hall has been repainted and the dioramas all have new LED lighting.
"We had to take off the whole wall and remove everything," Kirchman said. "The birds were vacuumed and the beaks and feet repainted."
It was also an opportunity to correct some things that had changed since the 1970s. Kirchman explained that DNA sequencing had revealed some new information.
"Each mount was given a new label and some of the names had changed," he said.
The five habitat groups now feature a central panel, with a map of New York showing where those habitats can be found, as well as facts about the habitat.
Kirchman wrote copy for the displays and worked with graphic designers, fabricators, lighting, painting and wiring professionals to put the final touches on the habitats. The work has taken five years, with a few more features still to renovated and added.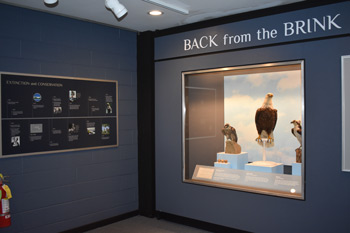 Kirchman and museum staff also designed two new educational displays, "Back from the Brink" and "Gone Forever."
"Back from the Brink" was created to "talk about birds that are back from the brink of extinction," Kirchman said. Inside the display are historic taxidermy mounts of a Peregrine Falcon, a Bald Eagle and an Osprey.
"Raptor populations were declining in the 1950s and 60s and we didn't know why," Kirchman explained. Research eventually determined the cause to be nest failure.
"The eggs were breaking in the nests," Kirchman said. "Egg shells were measured and compared to historic specimens." The shells were notably thinner in the modern specimens and scientists linked the thinning to the insecticide DDT. "The insects were exposed to DDT, small birds ate the insects and large birds ate the small birds."
Raptors, at the top of that food chain, were left with high concentrations of DDT and thinning eggs. Historic egg specimens from the New York State Museum collection that Kirchman now curates contributed to this discovery.
Opposite from the "Back from the Brink" display is the "Gone Forever" exhibit with a Passenger Pigeon, a Carolina Parakeet, a Heath Hen and an Eskimo Curlew.
"Here are examples of when we didn't act in time," Kirchman said. "These species are gone forever."
The museum's taxidermy mounts are old but well cared for. The extinct birds and the raptors on display are more than a century old. Most of the birds throughout the hall were mounted in the 1970s for the opening of the exhibit. In total, on display and in the depths of the museum, the state ornithology collection contains 20,000 birds.
Kirchman feels it is worth displaying even the historic mounts to educate new generations. "We're trying to use the Hall of Birds as a teaching tool," Kirchman said. "It used to be more abstract and we wanted to add context."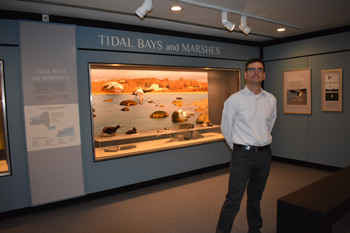 More work is planned in the coming months, Kirchman said. "The intro wall will be updated with a topographic map," he said. New York's topography and bird habitats vary greatly, with each area home to different types of birds.
"The Eastern Bluebird", the New York State bird, "will be featured on the other side of the intro wall," Kirchman said.
Each endcap wall of the habitat areas will be renovated with recessed cases to feature eggs and nests. Kirchman has also added eggs, nests, and new taxidermy mounts, throughout the habitat dioramas.
Kirchman has always loved animals and nature.
"I didn't start to become interested in birds until I was a college student," he said. "One of my professors was an ornithologist and he helped steer me in that direction by helping me get a summer job surveying birds in the Ozarks and by serving as my advisor for a senior thesis project on bird genetics."
He earned a BA with Research Honors in Biology in 1994 and an MS in Zoology in 1997. In graduate school Kirchman found a love for museum specimen-based ornithology.
"From 1997 to 2000, I worked at the Field Museum of Natural History in Chicago and from 2000 to 2001 I taught biology at St. Gregory High School," he said. He earned his Ph.D. in zoology in 2006 and soon after joined the staff at the New York State Museum. "Since 2006, I have been the curator of birds at the New York State Museum and affiliate professor in the Department of Biology at SUNY Albany."
In addition to his curator work, Kirchman conducts research on the biogeography and evolution of birds.
"I use DNA sequencing techniques to document patterns of diversification and extinction and to understand the evolutionary processes that affect bird populations," he said. "Since coming to the NYSM I've worked to modernize the Ornithology Collection and to study the birds that breed in isolated, high elevation boreal forest 'islands' in the Catskills and Adirondacks."
The museum team working on Hall of Birds renovations included PEF members Carrie Ross, exhibit planner and script writer; Kirchman, curator, content specialist and script writer; Ford Bailey, exhibit designer; Jill Cozzy, exhibit and graphic designer; Chris Kobuskie, supervisor of production; Hatti Langsford, museum educator; and Jessica Neidl, editor.
Others included Scott Heydrick, production manager; Mark Schaming, Deputy Commissioner of the Office of Cultural Education and Director of the NYS Museum; Nancy Kelley, NYSM director of exhibitions; Andrew Meier, graphic production; Tom Link, painter; Michael Sgambellone, production and fabrication; Ethan Hacklin, production; Koren Lazarou, production; Alan Noble, production; Frank Moscowitz, production and AV; Christopher Havens, graphic designer; Susan Winchell-Sweeney, mapmaker; and Dan Stienstra, production and AV.
---
CLICK HERE to view all stories featured in the Communicator!
---
Follow and Like Us On:


For best desktop viewing use the latest Google Crome browser