AFT purchases $3M worth of PPE to distribute to frontline workers, including PEF, NYSUT and UFT
By KATE MOSTACCIO
When the government can't fully supply frontline workers with vital personal protective equipment, labor unions step in to protect their members.
The American Federation of Teachers, one of PEF's parent unions, recently purchased 500,000 N95s, 50,000 face shields, and more than 1 million surgical masks to help protect its members fighting the COVID-19 pandemic, according to a press release from AFT.
"The items, totaling a nearly $3 million investment by the union, will be distributed over the next several weeks to healthcare providers in facilities across the country, including in New York, Washington, Oregon and New Jersey, in consultation with leaders from each state and using a formula to get the PPE to the highest-need areas," AFT's release stated.
PEF Region 10 Coordinator Darlene Williams said she was floored when she saw the magnitude of AFT's purchase and learned PEF would be receiving 40,000 of those supplies.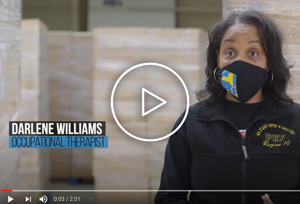 VIEW: DARLENE WILLIAMS AND RANDI WEINGARTEN TALK ABOUT THE NEED FOR THIS PPE
"Going in, I was just aware that we were going to receive some PPE," Williams said. "So I cleaned out my car to take a couple of boxes. I went to Bronx UFT (United Federation of Teachers), I walked in this room, and there were thousands of boxes of surgical masks. And then I found out that there were also faceshields.
"I was blown away and overwhelmed with what was going to happen," she recalled. "I became emotional because I knew what this would mean for our members. The day before I was at work and we are given a mask a day. Many of us are working 12 to 16 hour shift s and we only have one mask. We were told we are running low so be careful."
During a regular flu season, staff at her facility is instructed to change masks after each patient intervention, Williams said, poignantly highlighting how the current shortage of PPE is impacting frontline workers.
Williams said AFT's support and dedication to members was apparent that day.
"[AFT President] Randi [Weingarten] and I had a conversation about how much this meant," she said. "She informed me that AFT used union dues because the federal government is not able to take care of the employees so the unions have to step in and take care of the employees.
"Randi is so proud of the work that PEF is doing and how we really are holding the state of New York up during this crisis," Williams said.
"Union dues are now being devoted to protect the protectors and save lives, because the federal government won't do its job," Weingarten stated in a press release. "We have filed complaints, we have signed petitions, we have demonstrated, and we have run ads — and now, we've become supply clerks, negotiating equipment purchases around the world — because our members are getting sick, our colleagues and loved ones are dying, and our government has failed to protect them. If they won't do it, we will try to get them what they need."