Stony Brook, Downstate members thankful for hotel rooms amid coronavirus pandemic
By KATE MOSTACCIO

PEF members on the front lines of the coronavirus pandemic at SUNY Downstate and Stony Brook University Hospital have direct contact with infected patients and have been fearful returning home to their loved ones and possibly passing on the virus.
That's why PEF staff jumped to the challenge and secured blocks of rooms at hotels near the hospitals for the members to use instead.
"The option of having a place to sleep and clean up after work to relieve the anxiety and stress of going home to our loved ones is a huge burden lifted," said one nurse from Stony Brook, who wished to remain anonymous. "Before this, I was stripping down outside my home to just run in and shower. Still feeling like I am exposing my family along the way. This allows me to at least have one less stressor at work while caring for these very sick patients."
She praised hotel staff and urged fellow health care workers at Stony Brook to make use of the rooms.
"The hotel staff has been great," she said. "The rooms are clean and have what we need to get a shower and sleep. I highly recommend that others who feel the same way utilize this wonderful opportunity to decrease the stressors they have to deal with on a daily basis.
"We appreciate all PEF is doing for us in that regard," she said.
Another Stony Brook nurse said the feeling of safety is important.
"I am happy to say how safe I feel living at the hotel in order to prevent the exposure to my family," said Kimberly Conlon. "The hotel has been great so far and the staff very nice and welcoming. It is very convenient to stay at a hotel very near to work especially after long shifts where you are not always getting out on time."
Their sentiments were shared by a fellow PEF nurse at SUNY Downstate.
"Having PEF provide a safe and clean haven to destress and decompress is comforting," the nurse said. "It also alleviates fears my family has of me coming straight home from direct contact with COVID-19 patients."
The nurse said the situation at Downstate, and other hospitals treating COVID-19 patients, is unimaginable.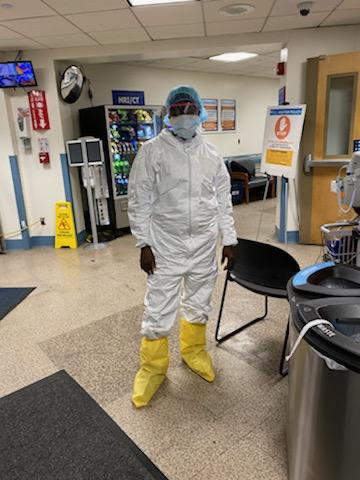 "The emotional toll I have working 12 hours straight in the MICU and witnessing and caring first hand for the critically ill patients with COVID-19 is indescribable," she said. "In my mind is the difficulty of doing my best with a virus I can't see, hear, taste or feel is a mind-blowing experience, as well as having to talk to the emotionally distressed family members via phone about their loved ones who can't see and can't be with their loved ones at the bedside.
"All while I fear coming home to my family as a possible carrier or sick," she said. At home, this PEF nurse has a spouse, two children and elderly parents with Alzheimer's Disease.
She express appreciation and gratitude for the recognition of what nurses on the front line are experiencing.
"Hampton Inn  has been gracious to offer their hospitality and I am so thankful," she said. "Way to go PEF."
Another SUNY Downstate nurse had been considering hotel rooms on her own.
"I had discussed with my husband a few weeks back when the hospital started getting multiple COVID positive patients that I may need to stay away from home," she told PEF. "My one and only daughter is asthmatic and she was really high risk. But as soon as numbers started going up I started looking for hotels and they were charging a lot."
PEF's intervention was appreciated.
"Thankfully PEF came through," she said. "I cannot thank PEF enough for coming through for their members. These are difficult times for everyone and I truly appreciate getting a comfortable room. The staff at the hotel are great and very accommodating. I have until April 7 and I hope I can continue to keep my distance from the family as much as possible."
As of April 7, more than 70 PEF nurses were taking advantage of available hotel rooms, including 47 members from Stony Brook University Hospital; 18 members from SUNY Downstate Medical Center; 12 from Pilgrim Psychiatric Center; and one each from Rockland Psychiatric Center and Upstate University Hospital.
To help keep this program going, please donate to the PEF Relief Fund: https://www.pef.org/disaster-relief/​