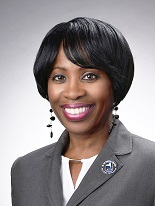 Sharon V. DeSilva, Esq., is an attorney at the NYS Office of Temporary and Disability Assistance, for over 21 years. She holds a J.D. in Law, M.S. in Criminal Justice, a B.A. in Psychology and Sociology and a Certificate in Labor Studies and 12 credits from Cornell's Union Leadership Institute.
She was first elected in 2018 and is now serving her second term as a PEF Vice President. She also chairs the Statewide Labor-Management Committee.
"I greatly enjoy using my skills and knowledge to represent PEF members in every forum where representation is needed," she said. "I am never afraid to establish a VOICE for all members!"
DeSilva became active in PEF when a colleague needed assistance representing a member in a "private" management meeting. She was asked to become a Steward because of her strong voice, and gladly accepted. Since that time, she has held several leadership roles, which continued her strong advocacy and gave her the opportunity to motivate PEF members to become union leaders.
"My goal is to use my experience and knowledge to make positive changes within our PEF Union," she said. "I truly believe that every engagement activity with PEF members should be strong enough to affect powerful voices, which subsequently leads to effective ACTION. My desire is to continue to work with and train PEF leaders to understand and learn effective labor-management strategies, in addition to working on other employment initiatives: hiring, promoting and retaining PEF members; revamping the NYS Civil Service system; addressing formal counseling matters, molding future leaders and the list continues.
Some of the positions DeSilva has held as a PEF leader include the following: Executive Board member, Labor Management Chair, Agency Level Health and Safety Chair; PEF Ethics Committee Chair; PEF Appeal Committee; OTDA EAP Committee, and PEF Black Caucus Upstate Chair. She has also drafted several Convention resolutions that became PEF policy.
Outside of PEF, DeSilva is actively involved in the community as a member of the Capital District SUSU Women's Club member, Henry Johnson Charter School Board member for over 10 years, Board member and actress on the Black Theatre Troupe of Upstate New York, Inc., and a panel member at the NYS Minorities in Criminal Justice Conference.
"I truly believe that my purpose on earth is to help as many individuals as I possibly can! My desire is to diligently use my God-given abilities to try and make significant changes in the lives of all people I interact with," she said. "All I ask of PEF members is to never hesitate to contact me to ask questions, state your positions or even complain. You elected me to work and serve you as a Vice President, and that is what I will honorably do! Now let's all work together to help each other become our BEST!"
Her PEF motto is: "PEF Today, Tomorrow and Forever!"