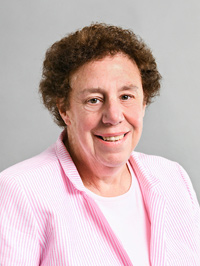 PEF Region 9 is a sprawling area that spans the lower Hudson River Valley, encompassing Westchester, Rockland, Putnam, Orange, Sullivan, Dutchess and Ulster Counties.
Diane Jaulus is in her first year as PEF Region 9 coordinator, taking office in August 2018, following the union's triennial elections in June. A licensed master social worker 2 at Bedford Hills Correctional Facility in Westchester County, Jaulus said her skills and training as a social worker in such things as community organizing and grassroots activities "are a natural fit for my work as regional coordinator. That's what I strive to do in my new role."
Jaulus said she has been proud to represent PEF as a vice president of the Westchester, Putnam Counties Central Labor Council and it has given her experience in working with other unions, the state, counties, local governments and community groups on common concerns.
"It's important to work together, and that includes working with both other public- and private-sector unions," she said.
Jaulus said her many other union experiences over the last 12 years of union activism have taught her a lot.
"I've learned PEF members want to be taken seriously, be listened to, and helped with their job issues. And I've tried to do that over my years as the PEF Executive Board representative for eight correctional facilities: Bedford Hills, Taconic, Sing Sing, Greenhaven, Edgecomb, Lincoln, Queensboro and Riker's Island.
"I've learned you must be flexible to meet the needs of your members, because they may work on different shifts and you have to represent them at their worksites. I must be available when and where they need me and that means my day may start at 7 a.m. and it's even gone as late as midnight."
"As PEF Division 353 council leader and a steward, I've helped members with their grievances and educated them about unions, potential threats to their job security, both contract and PEF benefits and how their PEF-negotiated state contract works for them."
As Region 9 coordinator, Jaulus said she will draw on all she has learned as an Executive Board member, council leader, steward, PEF convention delegate, and as a member of labor-management, health and safety, and the PEF Women's Committee.
Jaulus holds a master's degree in Social Work from Fordham University. She is a member of the National Association of Social Workers and a recipient of the Merit Service Award.
Region 9 – Poughkeepsie
Regional Coordinator
Diane Jaulus
504 Haight Ave.
Poughkeepsie, NY 12603-2845
(800) 548-4870, (845) 473-5022
FAX (845) 473-5053