PEF Lauds New Law on Expanded Whistleblower Protections for Health Care Professionals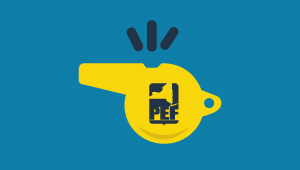 PEF Lauds New Law on Expanded Whistleblower Protections for Health Care Professionals
Governor Cuomo has signed important legislation that was supported strongly by PEF expanding whistleblower protections for our health care workers at public hospitals, residential facilities or other agencies who perform health care services for and under the control and direction of any public or private employer.
Chapter 117 of the Laws of 2020 prohibits employer retaliation against an employee who discloses or threatens to disclose or objects to or refuses to participate in any activity defined as an "improper quality of workplace safety," including "any practice, procedure, action or failure to act of an employer which violates any law, rule , regulation, or declaratory ruling adopted pursuant to law where such violation relates to matters which may present an unsafe workplace environment of risk of employee safety or a significant threat to the health of a specific employee."
This legislation will protect PEF members from the types of retaliation that were conducted against members during the COVID-19 crisis when so many of our amazing health care professionals warned their patients, their colleagues and the general public about the growing threat to their health and safety.  Acting on behalf of their patients and despite threats and other acts of intimidation, these amazing health care professionals called out their administrators publically regarding the lack of appropriate personal protective equipment and the inappropriate guidance being offered by administration to staff on the use, reuse and care of personal protective equipment in the state's health care and residential facilities, as well as on a myriad of other public health issues.  These actions led to renewed efforts at all levels to secure appropriate personal protective equipment and helped patients navigate our stressed health care system more safely.
This legislation also expands venues through which to report violations of improper quality of patient care or improper quality of workplace safety to include social media outlets and news media forums available to the public.
PEF President Wayne Spence and the Officers of PEF would like to thank Senator Diane Savino and Assembly Member Karines Reyes for sponsoring this groundbreaking new law.
If you would like to read this new law, it can be found here.