A new student loan benefit for you: Summer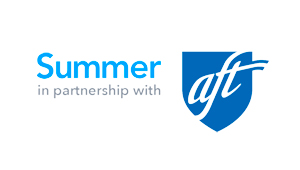 A new student loan benefit for you: Summer
Hello,
Every day, you work hard to make a difference in the lives of others. Your union—the American Federation of Teachers and the New York State Public Employees Federation do the same for you, by fighting for a better future for you and your community.
In these exceptionally difficult times, as COVID-19 has upended so much of our lives, we are doubling down on our fight for a future free from the overwhelming burden of student loan debt, including in Congress, in the courts and at the ballot box.
And because you are an AFT member, we are doing something more immediate for you—giving you a free subscription to Summer, a trusted online platform that can help you simplify and navigate your student loan situation.

How does Summer work?
Summer's easy-to-use online platform will check your eligibility across dozens of federal and state loan repayment and forgiveness programs. Based on your loan and financial situation, the Summer team will then help you enroll in a new plan.
You can use Summer today to:
✓ Lower your payments
✓ Apply for loan forgiveness
✓ Access expert guidance and support
On average, AFT student loan borrowers like you are using Summer to reduce their monthly payments by $170 a month, saving a total of $57,769 over the life of their loans.

Why did we choose Summer?
Summer was founded by student loan borrowers, who understand the frustration of the repayment process. And Summer is already working with union members like you to help them save on their student loan payments.
We're confident you'll like how Summer cuts through the confusion and complexity of your student loan payments. The Summer tool and team, working closely with the AFT's student debt experts, help you through all the options to consider, guide you to top savings recommendations, make decision-making easier, and handle all of the paperwork. Yes—less paperwork!
Whether you have no idea where to start, or just want to confirm that you're in the right repayment plan, Summer is a trusted, secure resource for you. Get started here:

Sign up here to start saving today!
This link is intended only for the original recipient. Please do not forward.

As a member of NYS PEF, you are not alone.
When dealing with student loan debt, as with so many other challenges we face today, we can accomplish together what we could not do alone. While we continue the fight against student debt, we hope you'll take advantage of this extraordinary new member benefit.
In unity,
Randi Weingarten
President, AFT
Wayne Spence
President, NYS PEF