Statewide COVID-19 Non-Essential Employee Guidance​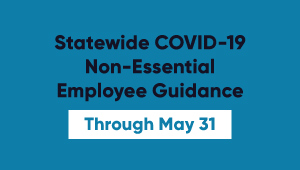 Statewide COVID-19 Non-Essential Employee Guidance​
PEF Members,
We know those of you who have been telecommuting for the past two months have been wondering about when you will be asked to return to your worksite.
Late yesterday, the Governor's office issued a memo extending the directive for all non-essential employees through May 31, 2020.  Agencies have been directed to develop regional plans with a goal of re-opening on June 1, 2020.  Workers deemed non-essential should therefore be prepared to return to their worksites in designated regions on June 1.
We are working with the Governor's office to ensure the re-opening reflects our concerns for clarity, communication and above all, safety for all PEF members.
To read the full memo, click here:
https://www.pef.org/wp-content/uploads/2020/05/COVID19-Non-Essential-Memo-05.14.2020.pdf​
5/22/2020 – PEF COVID Return to Work Plan for Management
In unity,
Wayne Spence
PEF President