Paycheck delay unfair to PEF members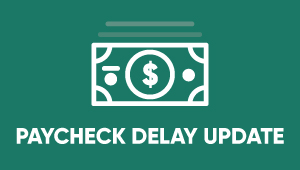 Paycheck delay unfair to PEF members – UPDATE
4/2/2020 – 
Thanks to PEF's urging and President Spence's advocacy, we are getting word this morning that funds are being released for paychecks for the state workforce.
News from New York State Public Employees Federation (PEF)
For more information contact: Jane Briggs, gro.f1632324037ep@sg1632324037girbj1632324037
Video of Wayne Spence, PEF President speaking to reporters at the steps of the Capitol
Video of Wayne Spence, PEF President on New Channel 13 – Budget talks leave some state employee paychecks in limbo
ALBANY, NY (04/01/2020) (readMedia)– The failure to pass a state budget by a March 30th payroll deadline left members of the New York State Public Employees Federation (PEF), many of whom are on the frontlines of coronavirus response efforts, facing a possible delay in receipt of their paychecks.
"Our members should not be pawns in this budget fight," said PEF President Wayne Spence at a press conference on the steps of the State Capitol Wednesday. "It is unfair for PEF members to be stuck in the middle as elected officials spar over whose fault it is that paychecks were not issued on payday. PEF members were not a day late showing up for the COVID-19 emergency. Their paychecks shouldn't be late either."
With 52,000 members in 4,000 titles, PEF's membership includes countless essential staff combatting the coronavirus at state hospitals and prisons; employees at the Department of Labor who are working tirelessly to process an avalanche of unemployment claims; and thousands of other state employees working from home.
"Our members are making sacrifices to keep New York state running," Spence said. "We've been fighting for adequate personal protective equipment, for telecommuting and for many other safeguards our members need to keep themselves and their families safe during this pandemic. We have been literally begging the state, our employer, for the protections we need. PEF members are essential workers in dangerous conditions and shouldn't have to beg for what is needed to keep themselves and their families safe." Spence added, " It only adds insult to injury that they can't get a paycheck."
View Online: http://readme.readmedia.com/Paycheck-delay-unfair-to-PEF-members/16997279
---
News on payroll delay:
N.Y. state workers' pay in limbo as Cuomo and lawmakers blow past budget deadline
Nick Reisman
Delayed state worker paychecks — including those for front line health care workers — angered the president of the state's second-largest public workers union
Union: State employees shouldn't be 'pawn' in budget fight
New York budget: Andrew Cuomo says he has a deal with top lawmakers. Here's what we know.
New York misses budget deadline amid coronavirus crisis – News – Uticaod – Utica, NY