Statement from PEF regarding April 1st Payroll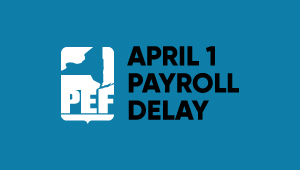 Statement from PEF regarding April 1st Payroll
PEF has been advised by the Office of the State Comptroller (go to website here: https://www.osc.state.ny.us) of the appropriation authority – or enactment of the state budget or a budget extender affording resources for payroll – has not occurred in time to permit the Comptroller to transmit payment to State employees in a timely manner for this payroll period.
As a result of this inaction, employee banks may delay posting direct deposit funds into employee bank accounts for the Wednesday, April 1, 2020 check date. Distribution of paychecks may also be delayed as paychecks will not be released by the Division of the Treasury until the state budget or a budget extender is approved.
Work on the state budget continues and PEF has been working hard to avert this problem and to ensure that the state adopts a budget that will provide the support needed for our members to continue to deliver the quality and efficient services New York's citizens need an deserve.
We will keep you apprised of developments as they occur.​