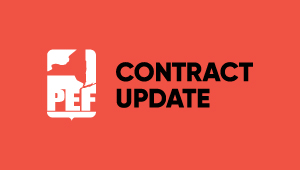 Contract Update
PEF Members:
The coronavirus has turned our world upside down, especially in New York state where the number of confirmed cases grows each day.
PEF members, from healthcare workers administering tests and caring for those in the hospital, to members helping people with unemployment benefits and everything in between are on the frontline of keeping New Yorkers safe.
After speaking with the dedicated members of the PEF contract team, it has become evident that their priority is to safeguard New York state and my priority as president of PEF is to safeguard PEF members. We also know negotiating a PEF contract is not the number one priority with the state at this time, and neither should it be ours. Therefore, we have decided to postpone any scheduled contract negotiations with the state for the next 60 days.
We will return to the bargaining table knowing we did the right thing; knowing it was PEF members who got us through this emergency.
Through this current state of uncertainty, one thing remains certain. We are the Public Employees Federation, dedicated and committed to providing the best possible services to all New Yorkers.
Please check the PEF website and social media pages for important updates on the coronavirus and contract negotiations.
As always, I am humbled to be your president and thank you for the outstanding work you do.
In unity,
Wayne Spence
PEF President