Union secures hotel block for members during COVID pandemic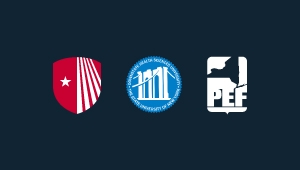 Union secures hotel block for Stony Brook and SUNY Downstate members during COVID-19 pandemic
Albany, N.Y. (03/27/2020) – The New York State Public Employees Federation (PEF), responding to the needs of members working at Stony Brook University Hospital and SUNY Downstate Medical Center, has secured a block of hotel rooms for members to use if they fear spreading the coronavirus to their families or are too exhausted to return home.
"Our number one priority is the safety of members and their families as they fight the coronavirus from the frontline every day, many without the proper personal protective equipment" said PEF President Wayne Spence. "For direct care professionals who are fearful of bringing the virus into their homes and spreading it to loved ones or who are just too exhausted to make the drive home, PEF has secured a block of local hotel rooms for those members to use – free of charge – for up to seven nights."
The union has been working tirelessly to safeguard its members across the state. This pilot program can be adjusted depending on need.
"We will continue to vigorously advocate for the safety of our members, while looking for additional ways to support their heroic efforts during these unprecedented times," Spence said.
If you need a room, please contact Mike Favata at gro.f1627951987ep@at1627951987avafm1627951987