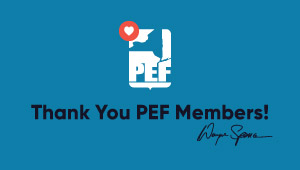 Thank You PEF Members!
Sent from the desk of PEF President Wayne Spence
PEF Members:
I want to tell you all how proud I am of each and everyone of our 52,000 members.  All of you are playing an important role in helping New York state fight the coronavirus pandemic and keeping New York state running during this emergency. PEF members,working in nearly 4,000 different titles, are unique in that our jobs touch every facet of society.
What we are facing is unprecedented and from day one PEF members have not only risen to the occasion but have been in the forefront and on the frontline in this crisis.
Please continue to send us your questions and concerns.  We hear you!  We are vigorously advocating for your safety.  We know the voices from the front line can result in changes that save lives.
Thank you, PEF heroes, for your work, your dedication and your continued commitment to PEF and the residents of New York state.
With gratitude and in unity,

Wayne Spence
PEF President