Temporary, emergency agreement and application with NYS for telecommuting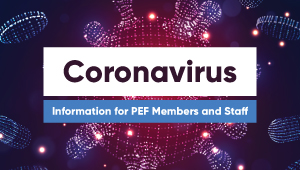 Temporary, emergency agreement and application with NYS for telecommuting
After days of cautious negotiations, we have come to terms on a temporary, emergency agreement with the State for telecommuting during this time of crisis. This program is an attempt to strike a balance between ensuring New York State can continue to function, while providing appropriate precautions for PEF members to prevent the spread of COVID-19. This agreement shows how much we can accomplish quickly when we work together, and want to thank Governor Cuomo and his team for the leadership displayed in working with us to protect our members and all New  Yorkers.
Although this is an emergency situation, we must proceed with a guarded mind to protect the integrity of the PEF contract and make sure our membership is shielded from interpretive managers.
This agreement means a large scale use of telecommuting that is new to both PEF and the State, but we believe we have built in the precautions necessary to protect our members. As with anything new, there will be mishaps and hiccups along the way. We are prepared to bring those concerns to the proper level of management and have them addressed.
Though this emergency agreement is not everything we were looking for, under the circumstances and time constraints, we were able to get some important wins for our members. For example, in spite of the State standing strong on home visits, after days of sometimes hard negotiations, we were able to have that section removed, which was very important.
That said, there are some important things to know and remember about this agreement.
First and foremost, this is an emergency, temporary agreement for up to 60 days. The program can be extended upon agreement by both the State and PEF.
This is an alternate work arrangement that allows some of our membership to conduct all or some of their work at home. State operations must continue but telecommuting will be approved to the greatest extent possible. This will relieve some of the stressful situations of those that must use mass transit, enter areas of population density and/or deal with the issues of closing schools or daycare. It will also allow for social distancing.
Telecommuting under this agreement may be up to five days per week, whereas under our current contract, it is limited to four days per pay period.
Please note that although we requested that all members be allowed to telecommute, each agency has the full discretion to deploy their workforce and each application must be approved by supervisors and human resources.
We made sure to include protections for our members by negotiating built-in appeal processes for both mandatory and voluntary portions of the temporary agreement. We asked for and received a training, which occurs prior to the actual telecommuting. This is another step that protects our members.
Telecommuters/members using personal devices will receive instruction on how to obtain VDI, VPN and/or an RSA token. These must be tested before telecommuting can begin. This is an agreement that not only protects our members but allows those members to continue to provide services during this emergency.
Finally, this program will take effect immediately for a period of sixty days upon signature of the State and PEF. It can be extended upon agreement by both parties. This Pilot Program can be cancelled by the State in its sole discretion with one-week advance written notice to PEF.
We know this has been a difficult time for everyone, but we hope this emergency agreement will allay some of those concerns. If you have any questions please contact your local leader or field representative.
Statewide Telecommuting Pilot Program
Guidance on the Contacts of a Close or Proximate Contact of a Confirmed or Suspected Case of COVID-19