PEF Delegate schedule for petitioning and balloting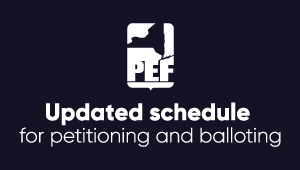 Updated schedule for petitioning and balloting
PEF Members:
Because of concerns over the coronavirus outbreak we have updated the PEF Delegate schedule for petitioning and balloting.
Please note, these dates are tentative and are subject to change as the circumstances around the coronavirus change in the coming days and weeks.
PEF Delegate schedule will be as follows*:
Petitioning
Petitions available:                                        5/13/20
Petitions due:                                                   6/4/20

Balloting (for contested seats only)
Ballots mailed:                                                 6/19
Ballots due:                                                        7/13
Ballot count commences:                            7/15

*THIS IS A TENTATIVE SCHEDULE DEPENDING UPON THE CIRCUMSTANCES AT THAT TIME.
The health and safety of our members is our number one priority.  Thank you for your patience.
Thank you,
Tom Comanzo, Delegate Election Committee Chair
Kristie Furman, PEF Assistant Director of Divisions