Disaster Relief Fund: Puerto Rico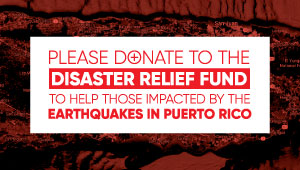 Disaster Relief Fund: Puerto Rico
PEF Members:
This past weekend, Puerto Rico suffered another 6.0 magnitude earthquake, just a few days after a 6.4 magnitude quake hit the island, leaving the people and infrastructure devastated once again.
Buildings on the southern part of the island have been completely flattened. Homes have been damaged beyond repair. Schools on the island have collapsed, and with continued earthquakes, people are fearful that additional schools, which have already been inspected and have suffered severe damage, will eventually collapse as well. And the already fragile power grid continues to shut off after these massive quakes, leaving the people of Puerto Rico without power.
As New Yorkers, and as members of the Public Employees Federation, coming together and helping others in need is what we do best and what makes us stronger. PEF has set up a Disaster Relief Fund to aid our brothers and sisters in the relief and recovery efforts. The people of the island need us now more than ever. They are still dealing with the aftermath of Hurricane Maria; and these recent earthquakes have undone many of the repairs made in the last two years.
I am asking you to please continue the generosity you've shown in the past by contributing to the PEF fund to help those impacted by these earthquakes to rebuild their lives.
I know our thoughts and prayers are with the the victims and the members of the brave rescue, recovery and relief teams. But prayers are not enough. Please donate to the PEF Disaster Relief Fund.
Through your generosity, I know we can make a difference. Click here to donate today.
Wayne Spence
PEF President
The PEF Relief Fund is a registered 501(c)3 Public Charity with the IRS.  As such, contributions to this fund are deductible under Section 170 of the IRS Code.