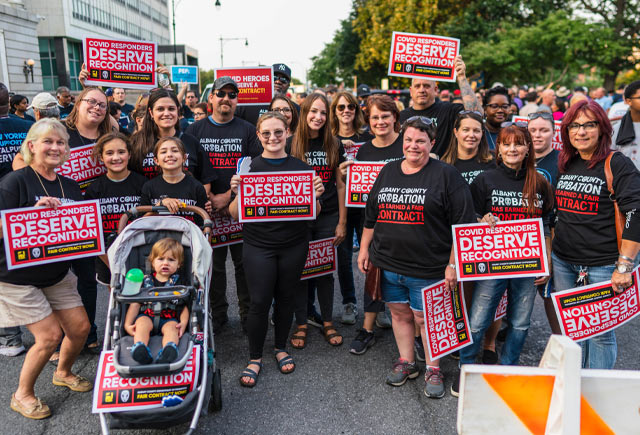 It was a warm day and evening as hundreds of PEF and other union members marched through the streets of downtown Albany on September 9 in the city's annual Labor Parade.
Colorful shirts, hats, pennants and whistles were worn and carried by marchers, along with signs. Some of the signs carried by PEF members said:
We care for you when you need us most;
COVID heroes deserve a fair contract;
PEF: We Work for You;
PEF: Respect us, Protect us, Pay us; and
COVID responders deserve recognition.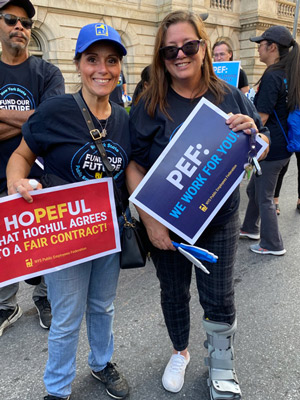 It was, of course, a moment for PEF Region 8 to shine, with many of its members at the Albany County Probation Department joining PEF state workers in the parade. Workers didn't march alone, they were accompanied by their families, with many little ones in strollers as the older ones helped carry the union banners. Retired union members marched, too, with everyone sporting their union shirts and enjoying the lively spirit.
Albany Mayor Kathy Sheehan welcomed the marchers as the parade ended at the city's Corning Preserve along the Hudson River, where there was plenty of food for all of those who missed dinner to be in the parade.
State legislators and members of Congress are up for election and several incumbents representing the Capital District also were on hand to share their support for union members, shake hands, hear their comments and answer their questions. Congressman Paul Tonko, and state Assemblymembers Pat Fahy, Carrie Woerner and Phil Steck were there.
Labor leaders also spoke at the event including Mark Emanation, an activist musician and leader in the Hunger Action Network and Citizen Action, and retired carpenter Kevin Hooks, who gave a brief look at labor's historically important role in the Capital District.
BY SHERRY HALBROOK