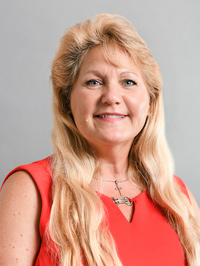 Region 12, comprising Nassau and Suffolk counties on Long Island, has a long and proud history of activism in PEF. It now, for the first time, has the distinction of home region for the union's ninth and newest president, Wayne Spence.
And while Region 12 Coordinator Nora Geiser is not quite as new as some other regional coordinators elected in June, she only has a few months seniority on them.
"This is a very active region," Geiser said, "So far this year, we've held a leadership conference, two Political Action Committee meetings, a general membership meeting, and steward training. In July, our region had its 'biggest office party of the year' at the annual Marcum Challenge where we enjoyed all-day barbecue and a 5K run in the evening."
In September, Geiser said she will address the Long Island Chapter of PEF Retirees, and she is already strengthening the PEF region's ties to the Long Island Federation of Labor.
The region's delegates to the PEF convention will meet at the Region 12 office October 5 and the PAC will meet October 26.
Geiser is a teaching and research center nurse 3 at SUNY Stony Brook University Hospital, a state facility that also produced former Region 12 Coordinator Doris (Dee) Dodson.
Geiser began her career at the medical center as a registered nurse with an associate's degree and is currently an associate clinical professor. "I earned my bachelor's and master's degrees with the help of PEF's tuition reimbursement program," Geiser said.
At Stony Brook she has served on both the Legislative Action Committee and the Cultural Diversity Committee of the United Nurses Congress.
Geiser has been both the secretary and a steward of PEF Division 225, active on the Region 12 PAC, and a delegate to PEF conventions where she was a featured soloist once in singing the national anthem.
Region 12 – Long Island
Regional Coordinator
Nora Higgins
1383-16 Veterans Memorial Highway
Hauppauge, NY 11788
(800) 832-5284, (631) 360-4360
FAX (631) 360-4373